One of the most common questions we get is "Are you still open?" The answer is "YES!" GolfPH has been around for over 15 years and we have persevered through the pandemic. It's
How many of you are bored at home wishing you were out on the golf course? For many of us, we haven't golfed since before the ECQ quarantine… and realistically, we don't see
On 19 April 2018, the British Chamber of Commerce will hold its 6th GREAT British Golf Tournament at Wack Wack Golf and Country Club in partnership with Coventry Motors Corporation.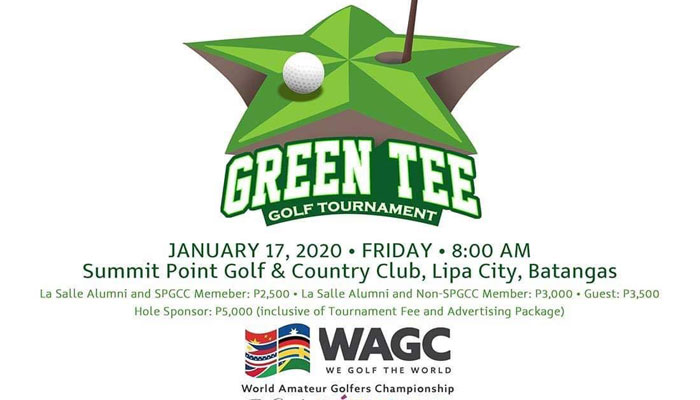 Come join us and start the new year off right by playing in the 1st Green Tee Golf Tournament, hosted by the Alumni of La Salle Green Hills High School Batch 1995. Batch
The Lighthouse Club Manila is excited to announce the inaugural LIGHTHOUSE CLUB INTERNATIONAL CHARITY GOLF TOURNAMENT on 8th November at the Summit Point Golf & Country Club. This tournament format is Texas Scramble
Enjoy A Fun And Meaningful Round Of Golf At The 10thCHARity Golf Tournament For the 10th year in a row, the CHARity Golf Tournament is offering avid golfers the chance to, not just
Come Join the 1st Wack Wack Ladies Cup which is a fundraising tournament by the Board and Members of the Wack Wack Ladies Chapter. This tournament is open to everyone and there will
Ever wanted to play at some of the best courses Manila has to offer. Well now's your chance. The Resorts World Manila Asia Pacific Golf Challenge is an Open tournament for all AMATEUR
The LG Nationwide Golf Tour is back again on September 2, 2019 at Ayala Greenfield Estates Golf Club and will be an official 2019 WAGC Philippines Qualifier. Winners will qualify for our 2
A land of staggering natural beauty and cultural complexities, of dynamic megacities and hill-tribe villages, Vietnam is both exotic and compelling. Vietnam is one of Southeast Asia's most beautiful countries, attracting travellers to
WHY GOLFPH?
Our golf blog provides a bunch of first hand information from a golfers point of view. We do this because of the love of the game and to promote golfing in the Philippines. We try our best to take an unbiased, nonsense approach to everything that we publish. All of our writers are unpaid volunteers so please be easy on us. If you would like to write for golfph, please feel free to email us at [email protected].