Canlubang Sugar Estate, Canlubang, Laguna Province
[PRIVATE GOLF COURSE]
H=36 P=72
Slope Rating: NORTH COURSE – Blue: 135, White : 130, Red : 133
Slope Rating: SOUTH COURSE – Blue: 135, White : 129, Red : 128
Maintenance Day – Monday, Tuesday
Please Call for Confirmation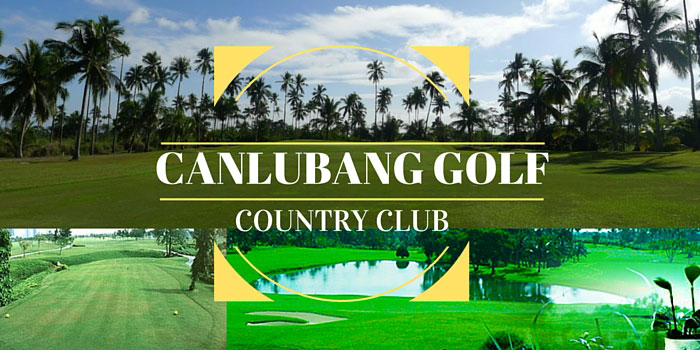 Canlubang Golf Course Description
Canlubang Golf & Country Club, one of the largest golf courses in the Philippines, was once a former plantation of the sugar cane industry. The construction of the golf course took the heart of most golfers because of its simplicity and scale. The length of its fairways is summarized into two courses, the North Course and the South Course. Aside from its wide range, another great reason to play golf in the area is its challenging courses and knowledgeable caddies.
The North Course of the golf club is known as the gentleman's game because of its difficult and manly course. Its 9th and 18th unique holes became signature to its golfers. Its fairways have scenic views of man-made lakes and ravines. Another challenge from the gentleman's game is the strong wind that adds to the thrilling course.
On the other hand, the South Course differs from the former course because of its feminine touch. The abundance of ravines and tropical plants in the golf course made its game easy to play especially for women. Compare to North Course, South Course has wider and even holes to play with. In addition, it has magnificent views from natural sites like Laguna de Bay and Sierra Madre.
Related Other Golf Course Within Laguna KC Filipinas Golf & Country Club
Just like any other golf courses, North and South offer three sets of tees, the Whites, Reds, and Blues. Both of the golf courses provide knowledgeable caddies who can assist golfers regarding their game queries. Other great services from the two courses are Bars, Tee houses, and restaurants. Canlubang Golf Course is a perfect place to play golf and at the same time to relax.
How To Play
You may also book through GolfPH to have playing access to this golf course.
North Course
*D : drive , A : approach
Hole #1 Par 4 – (D) Hit middle right, never left OB. don't cut fairway. (A) pin to pin. Left and right bunkers
Hole #2 Par 5 – (D) dogleg left. Just place drive in the middle left ( no shortcut) OB left, hazard right. Just keep it steady (A) hit left of pin, huge bunker on right. Play short. Ball will run far downhill at the back when over club.
Hole #3 Par 4 – (d) keep drive steady middle right. Left right are hazards. (A)Never pin to pin. skinny hole. Bunkers all around except right front of green. Attack right side of green easy chip when short. Easy par when done correctly. Could be a double par when trapped from bunker to bunker.
Hole #4 Par 3 – easy hole when distance is perfect. Over club . Deep ravine just before green
Hole #5 Par 4 – Dog leg left (d) keep driver at the right side of fairway. Don't be fooled with trying to shortcut this hole. It always goes to the hazard. Hazard from tee to green left side. (A) . Bunker on right side of fairway. Huge green just go for pin
Hole #6 Par 3 – overclub again. Hazard from tee to green. Go for pin. Uphill green so don't play short.
Hole #7 Par 4 – dog leg right. (D)Keep drive left side. It's one of those holes you don't want to slice. Hazard right side. (A) hazard again just before green. Over club once more. Go for pin. You can easily three out of you're at the other side of green. There's a bank at the back to catch Long shots so don't be scared of overclubbing. It wil just bounce back at the green
Hole #8 Par 4 – Dog left right, never short cut even if it's tempting to. Easy to lose the ball even if you cross he hazard because of the rough and you will never see where the ball will land. Easy to lose balls. Keep drive center of fairway with a shorter club like a 5 wood 3 wood. OB left so you wana have a draw shot her. (A) easy shot to pin. Just don't play short since there is a a big bunker front right. big green. Easy par
Hole #9 Par 5 – (D) left OB. Keep drive striaght. Hole tends to be windy so keep shots low. Second shot just put right before hazard (a) crucial third shot since there is a hazard and huge deep bunker before. Never play short. Hard to play bunker since its deep. Uphill green so just go for the pin. Aim a little left of pin as green will bounce your ball to the right.
Hole #10 Par 4 – (D) Easy hole. Hazard left, huge trees on right . Huge fairway. Target right edge left bunker. (A) huge green. Go for the pin. Right side bunker so aim a little left of pin easy chip when short but don't play aggressive since it's hard to chip from back
Hole #11 Par 3 – Dont be too aggressive , easy to chip from front. Not an uphill green. Bunker both sides . Aim left of pin as wind tends to go from left to right all the time. Go for pin. Never do a fade or slice here because you'll end up in the bunker on the right. Over club a little so you can miss the bunker at the front right side of green But if your gonna miss the green. Make sure you miss it short and left never right
Hole #12 Par 4 – (D) dog leg right , Ob left. Aim left side center to have a better shot at the green (a) uphill second shot with huge bunker on the left. Aim at right side of green. Try to miss the left side bunker at the front. Be aggressive as you can't afford to be short. Green is uphill. Put short as putting from above the pin is too downhill and hard.
Hole #13 Par 4 – (d) longest and widest hole of the course so just keep it straight and long. OB on left side. (A) approach is crucial usually 200+ yards so prepare your 5 wood. Huge green so just hit the middle of the green regardless of pin placement.
Hole #14 Par 5 – (d) tight hole so it's crucial to hit 80% so as not to hit tress both left and right. Better to put it left center of fairway for best second shot view of hole (a) many bunkers before the green. Don't lay up as to third shot will be a hard one . Use three wood or five wood and be aggressive as possible. Aim right side of green
Hole #15 Par 3 – Aim center right side of green. Uphill green the goes right to left. Try to miss the bunker on the right though. 1st putt should be a little bit short of hole. Don't putt aggressively because putting from above the hole is hard.
Hole #16 Par 4 – (D) keep a striaght drive. Left center as trees on the right can block ball to the green. (A) aim left side of green because bunkers are on the right and green is tight. If pin is on the left . Play short because usually pin will be at the front. Bunker on left back side of green. If pin is at the middle (go for pin) if pin is at the right , stay at the middle. Green to too tight to hit at the right side and bunker is at the right just a pin length before the hole.
Hole #17 Par 5 – (D) aim left center. Then do a lay up just before the last creek or you can hit a 3 wood depending on skill level and lie of shot . (A) approach shot should be easy. Aim left side of green as green tends to bounce to the right. Be aggressive as possible since huge bunker guard the right side of green . Usually pin is hidden at the right so try to just go for center or left center, I don't recommend going for the right side even if pin is located there. Green will be huge so it won't be a hard approach
Hole #18 Par 4 – Hazard left. Keep drive right center. Huge fairway but never go left. (A) usually 150 yards second shot depending on the drive. Deep bunker before green hazard left . Bunker at right side of green. Always finish strong with a strong shot that guarantees the ball going over all the hazard . Green stops so make sure you aim for pin. It's one of those holes you want to go aggressive and aim for the pin. Never play short.
Play by Play Description submitted by Don Padllia
Related: See the complete list of Laguna Golf Courses
[thrive_2step id='16632′]

[/thrive_2step]
Facilities
Canlubang Golf Course Location, Map and Address
Canlubang Golf Course Review:
Golfers – both professional and amateur – are sure in for a treat when they play in Canlubang Golf & Country Club. The club offers the best of both worlds: the excitement of playing challenging holes, and being an escape from the hustle and bustle of life. One can really only expect a wonderful round of golf in this place. Here is a short review on this great club:
Click here for full review
The North and The South
Canlubang Golf is actually two courses, the North and the South. The North's known for its rather long and generous fairways. A highlight of this course is Hole 17, a par 5 monster with a ditch right after the fairway. To make things worse – or in other cases, exciting – this hole also contains the one of the smallest greens in the club. Golfers playing in this hole would definitely need to have accurate shots.
The South, on the other hand, is otherwise known for its short – yet surprisingly challenging at some parts – length. Hole 5 is particularly a favorite among players, which is known for the deep ravine right smack in the middle.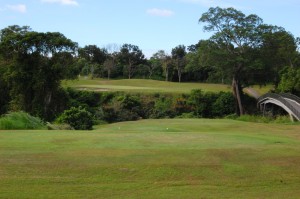 Nevertheless, what makes each course such a hit is the layout. Both gives out a great sense of nature and challenge, that actually makes you experience a different game each time you visit. Plus, the North has a wonderful twin course that'll dazzle any club visitor, and the South has a jaw-dropping view of a deep ravine!
Nature at its Best
The entire layout of Canlubang Golf is situated right below a mountain (Mt. Makiling). As noted by its staff members, the club's layout features just placing the hazards (mostly the traps and bunkers) along the natural terrain – which means that players actually play in the most natural form. This not only provides a different kind of challenge, but also creates a sense of nature's appreciation for visitors.
Golf Pillar
Almost at its 40th year (actually, the club has just celebrated its 36th anniversary), Canlubang Golf is a tried and tested pillar of the Philippine Golfing scene. Premier tournaments have graced the greens, and golf legends have stepped in to test their mettle in this club. Also, the club enjoys a steady and faithful following from players, and as well international golf standards, with the club consistently winning golf accolades throughout the years.
Canlubang Golf definitely will provide players from all levels a wonderful golfing experience. The club gives the perfect balance of relaxation and strategy, with the added benefit of being one of the top courses to visit in the Philippines. Make sure to play at this club.
Photos of Canlubang Golf Club