Although we like the holidays, we also dislike the madness that comes with it. Traffic. Tons of people everywhere. The lines. Circling the mall parking lot until you are forced to find out that there is a basement level 5 with one spot left waiting for you.
Sometimes we wonder, why do we even bother with Christmas shopping!
We've all been there.
In spite of all those things and no matter what we know is about to happen, the holidays are still the best. Giving gifts brings joy not just to the person receiving it, but it makes us feel good inside too. So, since we know you all have to buy things for your golfer-loved-ones (including yourself), we compiled a huge list of things you'll want to take note of.
There are 55 Gift Ideas this year and it is our biggest Holiday Gift Guide yet.
We split them into 8 categories, so that you can find the one that fits your budget and your golfer with ease. Below are just a few of the items featured in this year's Holiday Gift Guide.
Because of the size of this year's list, we decided to convert the whole blog post into a PDF just to make it easier to read.

Click Here to get the full version, we will send it to you through email: The Ultimate Holiday Gift Guide For Golfers/
The list is comprised of the most sought-after, favored, and of course still practical Christmas gifts that we're certain any golf fanatic – including you – would love to both give or receive.
This holiday season, spend less time stressing over what to buy and more time enjoying the most wonderful time of the year. Choose gifts from our Holiday Gift Guide made just for you and you may not even have to leave your comfy couch to get them. 😉
THE BEST GOLF STOCKING STUFFER UNDER PHP1000: THE GOLF CLUB VIDEO GAME
Seriously, most stocking stuffers or gifts under PHP1000 are lame, but we all want them. We all need them. Generally they aren't really that useful or they end up being tossed somewhere in a corner. This isn't one of them.
You can use this gift over and over again. It can also be used by someone who doesn't even know how to play golf in real life.
EA Sports has done something different that no other previous golf video game has done.
While others have lacked customization, good commentary and details on the courses themselves, The Golf Club does not. This game is for people who really love golf. It is more about appropriating the feel of the sport rather than dressing it up with good looks or flashy gimmicks.
There's no swing timer to insure that if you click the button at just the right moment, you will hit 250 yards. There's no virtual caddy to tell you which iron to use, nor aftertouch spin controls to correct a misplaced shot. This is all about you and your knowledge out on the course. The basics you will receive on each hole start is the wind direction, distance to the pin and the elevation of the cup. It's up to you to read your own greens, your own ball lie and know just how much power to use based on your own experience on the course.
What is it? It's a golf video game.
Who is it for? People who know how to golf.
Who is not for? It's challenging, but it suits anyone that actually plays golf.
Where can I buy it? Pick up a copy of this EA Sports Game at any Data Blitz Store (call first to reserve it) for PHP995.
You will keep coming back to this game unlike any other golf video game due to the sheer amount of courses and the challenging aspect of the game, which you can easily apply to real life. You will just need to also have a PS4, XBox One or a PC to run this game. 🙂
THE VERY BEST GOLF EQUIPMENT GIFT: MIZUNO JPX-900 FORGED IRONS
Alright, so this may get you a little curious on why we chose a forged iron set to promote as the very best golf equipment for this holiday season. I'm sure that you probably may even want to dispute this suggestion merely because you aren't a fan of Mizuno, but let me tell you why.
Let me first tell you what it means to have a "forged" irons. 90% of all golf clubs are made of casting, which involves pouring molten metal into a mold to produce a golf club. This allows the manufacturers to be creative in how they make their club heads and where to put the weight in the head. A forged head or forging involves taking a piece of soft steel and stamping or beating it into shape. This means that the steel is softer giving what some players say a better "feel." It's definitely more labor intensive, which means pricier.
A forged iron allows you as a golfer to "feel" when you hit off-center, which helps you achieve the maximum distance and desired trajectory. Forged irons also have more weight in the center of the club. As a result, better players who hit the the sweet spot more often will maintain a lot more consistency in their shot compared to cavity back irons where the weight is dispersed.
The Mizuno JPX900 Forged irons have been dubbed by many golf enthusiasts and reputable reviewers as "standout irons" over the last two years. One of the main reasons why is because of the Boron steel that they introduced into their forged irons 2 years ago. Basically Boron steel is 30% stronger, which allows Mizuno to create a thinner face, that is more durable with longer lasting grooves.
I could go on and on about these clubs, but that's not what this post is all about. I recommend you check out a few other product reviews online if you are interested.
Who is it for? Golfers who understand what "feel" means.
Who is not for? Probably not appropriate for golfers just starting out. Not because they aren't great clubs, but generally you want to start out with a "beater" set that you hack away with first. One at a lower price point, but if you want to skip to one of the best, then this is your set!
Where can I buy it? Any Mizuno Retailers (Retails here for PHP64,995, but keep your eyes open for those Christmas Sales)
THE ULTIMATE BEST GOLF GIFT: ARCCOS 360 TRACKING SYSTEM
Seriously, this really is the ultimate best golf gift out there in my opinion (as well as many others out there heehee). Arccos Golf has been around for awhile now and they produce tech items for golfers that use sensors that attach to each club. These sensors track every shot you hit and then give you your stats. Not just any stats, but tour level stats. This is for every round.
It will tell you exactly how many fairways you hit, the average distance to the pin on your shots and how far you hit with each club! It tells you ALL of that.
PLUS it's now half the price of what it originally launched, so now it is definitely worth buying.
The problem is… they don't sell them locally in the Philippines.
However, you're in luck for 2 reasons.
The first is that it's pretty easy to ship things directly from Amazon to the Philippines now with Amazon Global Shipping.
The second is the Philippines government just implemented a no "customs taxes" law for purchases under PHP 10,000. Even if your package is a bit over, taxes have been reduced so shipping things over has gotten a lot easier.
Who is it for? Someone golfs at least a few times a month and someone who actually wants to know how well they are doing. You literally get stats for every hole and every shot of every round that you play.
Who is it not for? It's really easy to use, but I guess I wouldn't recommend it for someone who doesn't know how to use technology at all or doesn't care to in reference to their game.
Where to buy it? You can't buy it here, but you can have it shipped here with ease by using Amazon Global Shipping. Also, the government here just implemented a no "customs taxes" on purchases under 10,000PHP.
$249 + $110 for Shipping and Taxes
Here's the amazon link here.
THE BEST TO-GO GOLF ACCESSORY: PORTABLE ANDUX GOLF POWER HITTING BAG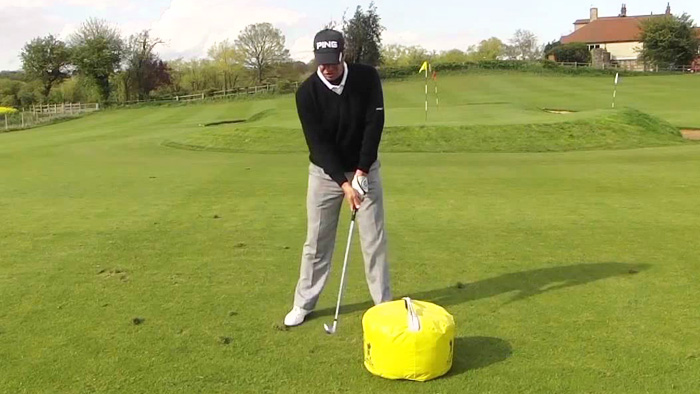 You are either looking at this list because you are a golfer and would like to buy yourself a gift or you are buying a gift for a golfer that you know. Before I got into golf, I used to watch my dad as he transitioned from what he used to call "an older man's game." Everywhere we went, he would take practice swings, holding an imaginary golf club. He would check himself out in the reflection of the glass of the mall stores. That's when I first realized how important practicing is to a golfer. It's so important, that it needs to be done EVERYWHERE and ANYWHERE.
That's why this is the best "to-go" gift. It's not a boring one like a water bottle or a club head brush shaped like a ball. It's something that will actually improve your game or the golfer you know anywhere and at any time.
Ultimately, it's a punching bag for you to hit with your club to improve your swing speed, agility and accuracy. You can use it anywhere. Stuff it with clothes when you are on a business trip. Blankets from your house. Towels from your gym. Really easy and compact too.
Who is it for? The golfer that is in the "obsessed" stage. This stage never goes away from my observation and is therefore absolutely necessary for everyone. It is also perfect for the golfer on the go, who can't always get to the driving range or doesn't want to sit in traffic to get there.
Who is it not for? Someone who lives on a golf course or near a driving range or someone who doesn't want to improve their swing speed from the luxury of their very own home.
Where to buy it? The Andux Golf Power Impact bag goes for PHP 1,388 and you can find it here.
THE SEXIEST GOLF GIFT: THE GARMIN VIVOACTIVE HR GPS SMARTWATCH WITH GOLF GPS
I'm not a fashion guru, but I do know that this thing looks good. For all of you that like looking good and having people compliment what you are wearing, then this is the item to buy for yourself (or your recipient of this gift). It looks good and it's actually useful. It doesn't just do the basics. It does everything all of your gadgets combined do.
Garmin has been the top of the GPS market for over the last decade. It has excelled in its accuracy for geographical pinpointing. What they did was basically create an all-in-one watch that has a GPS rangefinder, built-in sports apps (running, biking, swimming, etc), customizable interface, smart notifications for when you want to connect your phone to your watch and best of all, a battery life that lasts up to 8 days (when not constantly using the GPS).
This watch also boasts a database of over 40,000 courses and they built the touchscreen to be readable even in sunlight. This is absolutely necessary as so many smartwatches aren't really built for using out on the course with direct sunlight and no shade anywhere except in your golf cart.
Who is it for? The golfer that cares about his or her accessories and wants the accessory to actually serve a purpose for wearing it!
Who is it not for? Since it is a bit pricey, I would say if you are on a budget, then you can get a basic range finder to start. Not necessary for pure beginners yet, although I think it may be useful in finding those stray balls.
Where to buy it? You can get the Vivoactive for PHP 15,291 at your nearest Garmin retailer or distributor. Please call first to find availability. To find out the nearest retailer, please visit: http://ph.garmin.com/buy/retailer/
THE GOLF GIFT THAT KEEPS ON GIVING (BEST GAG GIFT): GOLF POTTY PUTTING GAME
You probably already have an image in your head based on the title of what this gift might look like. In all seriousness though, to each his own and please don't judge because I actually am a little partial to this gift. It's very useful and very practical. Multi-tasking.
The average man spends over 1 Hour a week on the toilet. For some people it's even longer. Some people choose to use this time to browse Facebook, answer emails or a read a book. Either way, most people do something. Why not improve your short game while doing something you are already doing.
Here's how it works. Set up the green nicely against the base of your toilet bowl. Sit down. Grab the putter. Line up your shot and try to make it in the hole. Very simple. Very easy to use and it looks much better in a bachelor pad bathroom than your typical toilet seat cover set. This is one of the greatest gag golf gifts to give to the golfer in your life.
Who is this for? Everyone. We all go to the bathroom.
Who is this not for? Someone who entertains a lot of guests and doesn't want too many questions being asked.
Where to buy it? You can find the Putt Potty set online for PHP 659 and can be found here.
The Potty Putter makes a great gift item for that special someone who doesn't mind spending a little bit more time on their throne.
THE GOLFER-ON-THE-GO GIFT: SCOTLAND GOLF & WHISKY TOUR
Alright, this probably really isn't the type of gift that you can just throw onto your Christmas gift list. If I were you, I would probably be sitting trying to figure out how to include in the budget a ticket for myself even if I don't golf! This is one of the most cool things a golfer can get to experience in his or her lifetime.
Go to Europe. Check.
Try unique Whiskys. Check.
Take a vacation. Check.
Do something that you can post on Facebook about that will make your friends jealous. Check.
Who is this for? The golfer who wants to do something different.
Who is this not for? Someone that doesn't drink whisky and someone who doesn't golf.
How do I buy it? Contact [email protected] and they can assist you with a quote. Please make sure to send all of the information that you know we will need. I.e. Dates, number of players, twin or single rooms. If you don't know the dates, then just pick a month to get a gage on the price range.
We wanted to add one more item that we really love. It's not really golf related, but it's one of the hottest out there right now. I'm sure anyone would appreciate it
What is it?
VR BOX 3D VIRTUAL REALITY GLASSES
I'm sure you have seen them in the mall. At your local Data Blitz or SM. There are tons of different models and all varying in price. When we saw this piece on the link below, we had to include it. It's so affordable and is worth the gamble to test it out. If you find yourself trying to use it all the time, then you can always upgrade right?
It supports Android & IOS & PC, which is pretty cool. It can also be used with pretty much any type of gadget (phone, tablet, PC, MID, TVbox, gamepad, wireless mouse, etc.). There's also a portable bluetooth selfie remote to use.
It's seriously amazing how much can be wrapped up in this package.
Who is this for? The golfer who is into tech stuff, gadgets and watching movies.
Who is this not for? Someone that doesn't have a smart phone, or gets dizzy really quick
How do I buy it? You can find the VR 3D Glasses online for only PHP 616 and can be found here.
See The Rest – Get The Other 47 Gift Ideas
We hope you liked the first snippet of gifts that we were able to release on the email. If you want the full list, please click on this link The Ultimate Holiday Gift Guide For Golfers. We'll send you a PDF version to your email address. It's pretty big and exceptional like the rest of this list. 😉
Let us know your thoughts and we hope to see you at our GolfPH networking event on December 7. Reply to this email if you missed the details on that event!
Thanks and Merry Christmas from GolfPH!
P.S. Click this link for the full Christmas PDF guide: Check Out Our List Of 55 Golf Gift Ideas That You Can Give This Christmas