VMMCC Compound,Gate 2 Mindanao Ave., Proj. 6, Q.C
H=18 P=70
[PUBLIC GOLF COURSE]
Office Hrs. 9AM – 5PM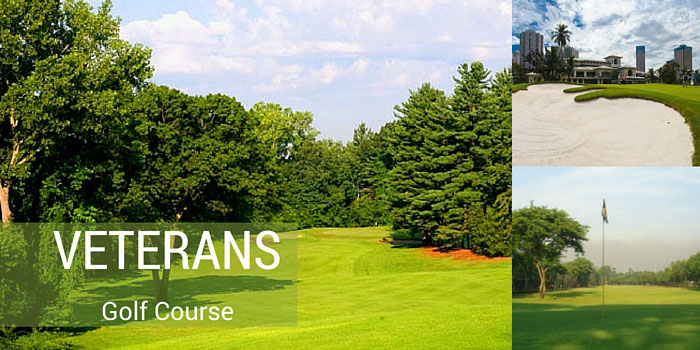 Veterans Golf Course Description
Veterans Golf Course is located in Quezon City and was built in 1958. Although this is a short 18-hole golf course, but is still frequently visited by local players since there are not a lot of golf options within the city that are open to the public. Many golfers share of that although it is a public course, the narrow fairways, small greens, numerous golf hazards, Molave trees and dog-legs make it a challenging, fun round.
The signature hole of this course is hole no. 7 due to the fact that almost the entire fairway is bordered by water hazards! Even the best golfers struggle to make sure they stay on the narrow fairway and avoid the rough as well as the water itself.
If you are looking for an affordable course to golf at within the city, Veterans Golf Course is one of your best options. They also offer other facilities that you can use including restaurant, coffee shop, spa, barber shop, banquet hall, meeting room, and tennis court.
Players should expect a pretty much laid back round of golf in this Par 72 golf course. There's not much drama on the design and terrain as most holes are straight. This course presents many challenges as fairways get narrower as you go along. Encountering the tall molave trees left and right of the fairway are almost a sure lay out just to get it back in play. It's a short golf course, but water hazards protecting most of the Par 5 greens will make you re-think of going for it in two. And to make this course nothing short of easy, they have designed the par four 7th hole as one of their signature holes. It's a reachable par 4 playing just less than 250 yards.
Related Other Golf Course Within Metro Manila Villamor Golf Course
A big sign at the back of the green can be visually seen from the tee box saying "GO FOR IT" entices strong hitters to do so. Players who are brave enough to take on that challenge will have to deal with the water hazard surrounding the green. However, the challenge doesn't end there, the precision of landing your ball on a relatively small green and praying that it stays on is certainly a heart pounding moment. Veterans golf club also offers affordable green fees, caddie, and golf cart services.
How To Play
Veterans Golf Course is open to the public. However, public courses tend to have longer wait times, which can be very time consuming. They also don't usually allow tee-time reservations. You may also book through GolfPH to have playing access to this golf course.
Highlights
Known for the annual Senior pro-am and Pro-am tournament every summer.
Located 1 minute away from Trinoma and SM North EDSA malls.
A good practice course, as they offer twilight rates on green fees.
Senior golfer friendly course.
Related: See the complete list of Metro Manila Golf Courses
Tip: You can cut the line, save 20% off on green fees and avoid the busy schedule, by booking directly with GolfPH. Fill out the form to your right and get a free quote today.
[thrive_2step id='16632′]

[/thrive_2step]
Facilities
Veterans Memorial Medical Center Golf Course Location, Map and Address
Photos of Veterans Memorial Medical Center Golf