Sibulan Public Plaza, Dumaguete
[PUBLIC GOLF COURSE]
H=9 P=35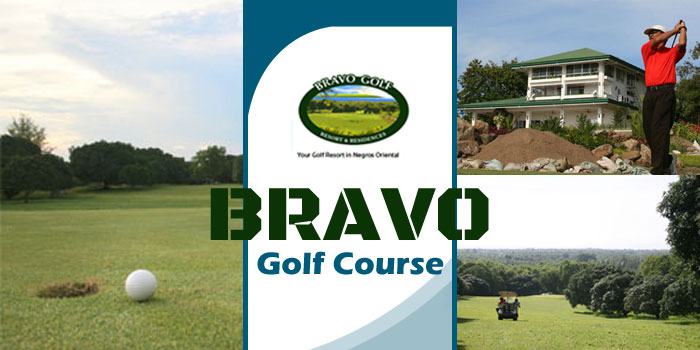 Bravo Golf Course Description
They say that "Its more fun in the Philippines" so why not truly experience that by meeting the gentle people of Dumaguete. There you will find the Bravo Golf Hotel Resort and Spa. It is situated at Sibulan, Dumaguete which is only a 12 minute drive from the airport. Bravo Golf Hotel Resort and Spa is a 9 hole par 35 public golf course. It is also considered to be one of the oldest golf courses as it was built back in 1945.
Aside from the resort, guests can go around the town and visit the Siliman University which is considered to be one of the oldest American schools or university in the City of Dumaguete. They could also visit the famous architectural land mark in the city which is the Bell tower. It is considered to be one of the oldest bell towers in the Visayas region.
This city can also offers you a trip to the Apo Island Marine Sanctuary which is considered to be one of the best diving spots. Guests can also enjoy a day with the Dolphins and whales in the city of Bais.
Related Other Golf Course Within Dumaguete Angtay Golf Club and Driving Range
How to Play
Bravo Golf Course is open to the public. However, public courses tend to have longer wait times, which can be very time consuming. They also don't usually allow tee-time reservations. You may also book through GolfPH to have playing access to this golf course.
Tip: You can cut the line and avoid the busy schedule, by booking directly with GolfPH. Fill out the form to your right and get a free quote today.
[thrive_2step id='16632′]

[/thrive_2step]
Highlights
– One of the Oldest public course in country
– Surrounded by many activities such as Apo Island Marine Sanctuary, Bell Tower, Whale and Dolphin Watching
– Located 12 minutes from the airport
– Accepts Tee Time Package Discounts and Bookings by GolfPH.
Other Bravo Golf Dumaguete resources:
Bravo Golf Hotel Resort & Spa Website
Bravo Golf Course Location, Map and Address
Photos of Bravo Golf Course