Fontana Leisure Park, CSEZ, Pampanga
[PRIVATE GOLF COURSE]
In Course – 18 holes
Out Course – 18 holes
Lower Course – 9 holes
P=72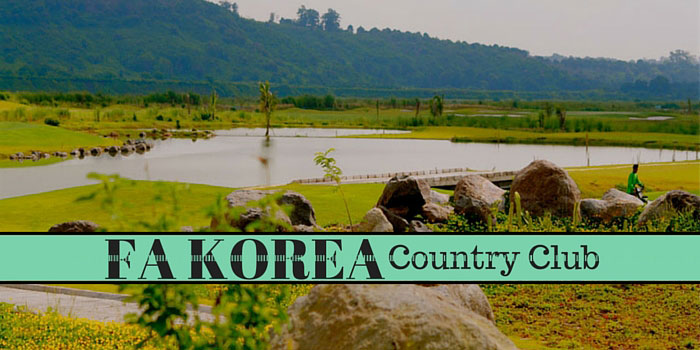 FA Korea Country Club Description
Located in the former United States Airbase in Clark Special Economic Zone, Pampanga is the Fontana and Apollon Korea Country Club. The club is a massive 36-hole golf course that is internationally ran, managed, and developed by three major companies; the Fontana Development Corporation, Apollon Development and Management Corporation, and the Korean company Victoria. This course is also voted as one of the "Favorite Courses North of Manila" by GolfPH members.
Related Other Golf Course Within Pampanga Fontana Leisure Parks
The three storey clubhouse of the golf club has a balcony that offers a breathtaking view of the uniqueness of the course. It also includes the views of the fairways made of perfect greens covered by tow types of grass, the Carabao grass and the Zoysia grass. The well maintained Carabao grass helps prevent open areas from turning into barren, dry lands. On the otherhand Zoysia grass with at the peak of its maturity gives color to the greens. Zoysia is a low maintenance grass that easily creeps throughout the area and it does not grow quickly. This is also a warm-season grass that keeps its green color in warm temperature.
Players must not be deceived by the beauty of this world-class quality golf course. The golf club's 441-yard signature hole number 16 is definitely what most like forward to. Not only is the hole long, but it actually designed in the shape of Korea, with the green symbolizing the beautiful Jeju Island. To play here, you must make sure to accurately aim your first shot off the tee.
FA Korea Country Club have amenities to accommodate players' comfort and playing needs. These facilities include a pro shop, exclusive pool, lockers, spa, driving range, restaurant, lounge, and a VIP suites. Come and experience a small taste of Korea right at the foothills of the Zambales range. Play at FA Korea Country Club and experience world-class golf in the bowl-shaped fairways and enormous greens that truly makes the golf course worth playing at over again.
How To Play
The Fa Korea Country Club is a Private Golf Club and guests must be accompanied by a member in order to play. You may also book through GolfPH to have playing access to this golf course.
Related: See the complete list of Pampanga Golf Courses
Highlights
– Voted one of the 'Favorite Courses North of Manila' by GolfPH Members.
– Internationally run and managed. Top notch facility
– Signature 16th hole is actually designed in the shape of Korea, with the green symbolizing the beautiful Jeju Island.

Tip for Tourists: You can still play at FA Korea Country Club by booking directly with GolfPH. Fill out the form to your right and get your free quote today.
[thrive_2step id='16632′]

[/thrive_2step]
Facilities
Other Forest Hills Clark,Pampanga resources:
FA Korea Website
FA Korea Facebook Page
FA Korea Golf Course Location, Map and Address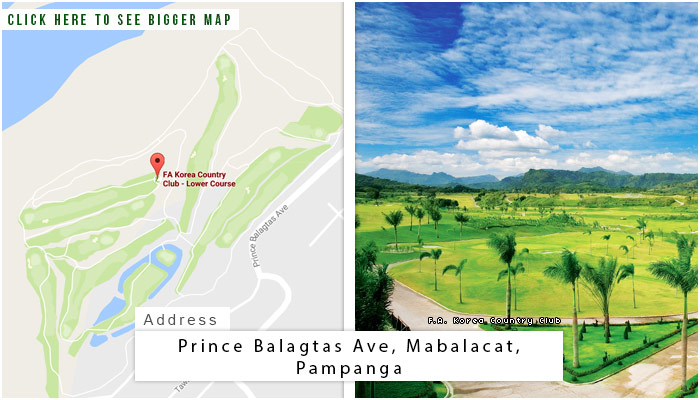 FA Korea Golf Course Review:
A lot of golf courses would dub themselves as "world-class". The adjective can actually be in line with the features the club provides, the quality service it guarantees for its guests, or for better or worst, a way to entice more players to visit the greens.
Click here for full review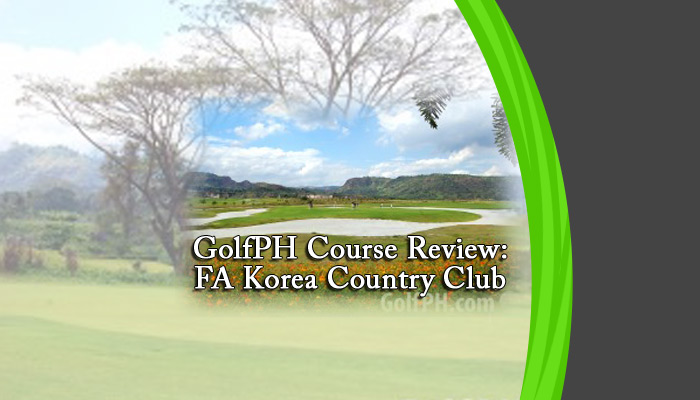 Yet, when "world-class" is used to describe the greens of FA Korean CC (Fontana Apollon Korea Country Club), you can be assured that is exactly you can expect to be in. The whole place, an extravagant feature of Korean design and ingenuity, speaks only of the best golfing experience you can get in the Philippines.
Having opened just last 2007, FA Korea CC has, surprisingly, grown into a club worthy to go against the very best places to play golf in the country. With 27 holes currently opened (made up of three lines, the In, Out and Royal Courses), the wide rolling greens with an exceptional view of surrounding mountains provide the perfect ambiance for the perfect balance of a serene and challenging game. This can especially be seen in the management's care of the greens, by making use of easy-to-maintain zoysia grass, to give the players a unique and enjoyable round of golf.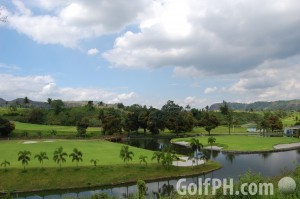 The club started out as a joint venture between three major companies – Fontana Development Corporation, Apollon Development & Management Corp., and a Korean company, Victoria. As a premier destination for Koreans – and golfers from all nationalities – the club takes pride with its Korean designed layout and facilities. In terms of actual staffing, FA Korea CC makes sure that every caddy under their employ follows the strict protocol and respect of proper golf ethic, which also includes the attire used for work. All these little details, and the succeeding and successful outcomes that results from them, are primarily stemmed from the brilliant ideas of its head, Chairman Jo Kwang Rae.
Located in F Balagtas Ave., Clarkfield, Pampanga, FA Korea CC is easily accessible to foreigners and the public alike. It's facade, which can be easily mistaken as a hotel front, does actually hide several wonderful views and secrets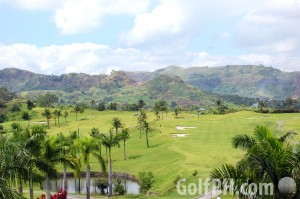 The view of the course from the 3-storey clubhouse balcony is simply breathtaking. You can actually see the uniqueness of the course as it unfolds before your eyes– a taste of Korea right at the foothills of the Zambales range. The fairways made of carabao grass are well maintained and the greens are perfect, especially with the zoysia grass at the peak of its maturity. The bowl-shaped fairways and enormous greens truly makes this course worth playing at over again.
Every hole features something new and each of them promises a challenging treat both to professional and weekend golfers. Just be sure to watch out for these memorable holes when you play at FA Korea Country Club: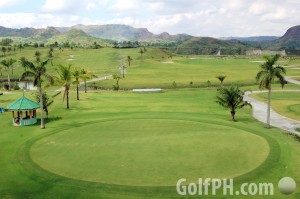 Hole 2
At first glance, nobody would think that the 585-yard second hole, with its magnificent scenery, is actually one of the most unforgiving holes in the inner course. It is a tricky hole in fact, with the green well hidden from your sight but with two enormous OBs on both sides of the fairway. Take a breath before your shot– the green is surrounded by several bunkers.
Hole 5
Deemed as one of the most difficult holes in the entire course, this 439-yard fifth hole has a long and upward fairway that makes the pin on the green look very small. It may look seem a common straight hole but don't be fooled– the length and elevation would actually need you to change your club more than once. Plus the green is irregular, adding the to the challenge one you try to figure the putting line.
Hole 7
This 253-yard hole can pose a big problem, especially if you hastily grab your driver for tee-off, thinking that it is a par 4 hole when in fact it is only a par 3. Secure your shot from the fairway– on the left is an OB, while the green has a bunker on the left side. What's more is that the back of the green is quite elevated, requiring a straight and well-calculated shot.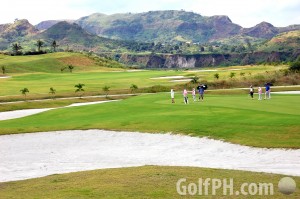 Hole 8
At 611 yards, this par 5 eighth hole is definitely the longest hole at FA Korea and is definitely one of the most difficult holes to play in the inner course. Longhitters may seem at an advantage but this hole can be quite tricky. The fairway is a little bent to the left and is quite elevated, so you won't be able to see a good view of the green surrounded by bunkers on both sides.
Hole 16
Playing at the 441-yard sixteenth hole is definitely something you should look forward to–not only because it's the signature hole but because it is the most difficult hole in the entire course. It was actually designed in the shape of Korea, with the green symbolizing the beautiful Jeju Island. So, be sure to aim for accurate rather than long shots when playing at this hole.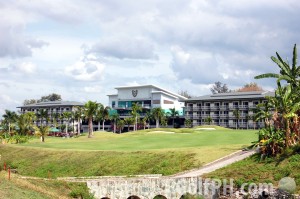 Hole 18
The course at FA Korea wouldn't let you finish without a fight. The 495-yard hole eighteen will surely make your game worthwhile and memorable. In case you dwon't notice, its green and bunkers are actually shaped after the Korean flag. Aside from that, it is also considered as a dogleg hole, bending to the right. That's why it can prevent you from easily reaching the green if you hit too far to the left; while aiming your shot to the right, will only land your ball straight into the creek.
FA Korea CC takes pride of it's Korean-centric management, staff and design. With the entire clubhouse providing a relaxing feel (which can be considered both as a relief and reward for players and visitors), one can easily find him or herself right at home in its vicinities.
Following a strict Korean feel, lockers are designed access and security, with the added benefit of sheer aesthetic design. Shower rooms are in itself a place to actually visit and admire – common showers and tubs, typical of Japanese and Korean architecture, are situated in the clubhouse. This not only provides a different (for local visitors) experience, but a relaxing cool-down session as well. Korean food is the highlight of its restaurant, offering a great gastronomic delight.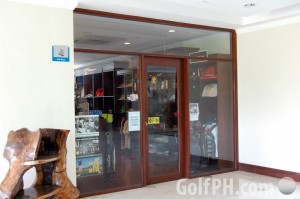 With its beautiful greens, its on-course facilities are as par with the excellent surroundings. Lightning resters are located at various key locations in the course, to provide protection for both the greens and the golfers. A fleet of up to 150 golf carts are available for players to use, with the latest models (the electric motor variety) to drive. Caddies are professional and kind, with a unique Korean-designed gear.
The expansive club also offers the use of a posh hotel for its visitors. Featuring 80 rooms, with a single room containing 2 more rooms inside (for a total of 160), provides much-needed R&R for the weary travelers to rest in. A spa is also offered, to guarantee premium relaxation from stress.
In terms of employee ethics, it can be significantly noticed that FA Korea CC actually does care for its guests. It can be seen that proper golf decorum is practice, right down from respecting other playing fleets down to the work (yet fashionable) Korean clothes that the caddies wear.
Chairman Jo Kwang Rae's decision to set up a "world-class" golf course in the northern part of the Philippines can actually be considered as a success. With a peak season (as early of September, which ends just at the tip of April the next year), as many as 500 more players play in FA Korea CC.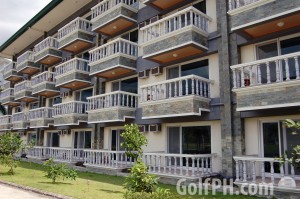 Though a private club, FA Korea CC is actually open to the playing public. This can prove to be a great chance for local golfers looking to spice up their game, on both the challenge and ambiance factors. Take the chance to actually play in this "world-class" golf course. We can guarantee you, you'll surely enjoy – and possibly come back for more – visiting and playing at this place!
Photos of FA Korea Golf Course