Taal Ridge Road, Laurel, Batangas
[PRIVATE GOLF COURSE]
H=18 P=72
Maintenance Day – Tuesday
Splendido Taal Golf Course Description
This golf course located on hilly terrain,is one of the newest golf courses in the country. Designed by golfing legend Greg Norman,the course is both beautiful and challenging. It is recommended that you rent a golf cart and hire a golf caddy to assist you in navigating through the course and determining distances towards holes.
Related Other Golf Course Within Batangas Summit Point Golf and Residential Estate
How To Play
Splendido Taal Golf and Country Club is a Private Golf Club and guests must be accompanied by a member in order to play. You may also book through GolfPH to have playing access to this golf course.
Tip for Tourists: You can still play at Splendido Taal Golf and Country Club by booking directly with GolfPH. Fill out the form to your right and get your free quote today.
[thrive_2step id='16632′]

[/thrive_2step]
Facilities
Related: See the complete list of Batangas Golf Courses
Other Splendido Taal Golf Batangas resources:
Splendido Website
Splendido Facebook page
Splendido Taal Golf Course Location, Map and Address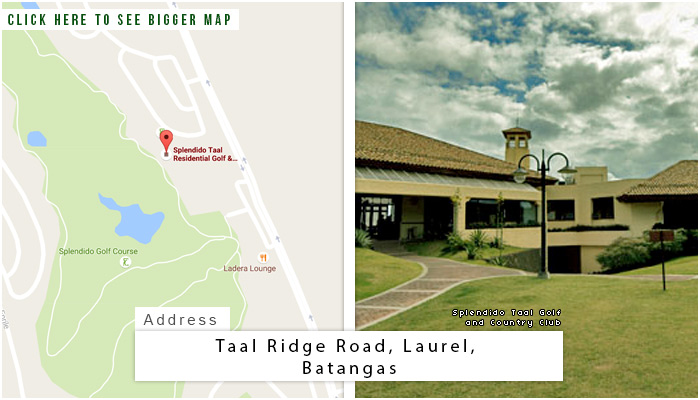 Splendido Taal Golf Course Review:
Who would have thought that a literal mountain hole can turn into a beautiful form of nature? This is exactly what happened with the Splendido Taal Golf Club, wherein a ravine near the Tagaytay ridge was filled with tons of earth, and shaped into what is now the Top 4th golf course to visit in the GolfPH list.
Click here for full review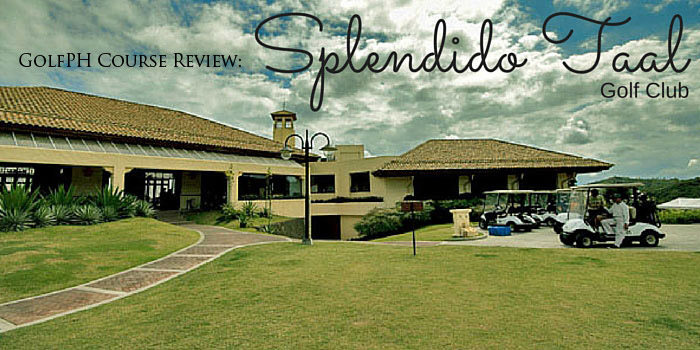 The year 2000 set the stage for a grand golfing experience in the Southern Metro of Manila, mainly in Tagaytay. A four-year construction of shaping and molding the hole transformed into a delightful golf escape. Sporting a Greg Norman design, Splendido Taal not only amazes its players and visitors with wondrous views (of the course, facilities and of course, nearby Taal lake), but exciting and challenging rounds of golf as well.
True indeed, playing at Splendido is not only fulfilling but is also entertaining. The entire course is a good mix of both short and long holes, each with difficulties and highlights of their own. The bunkers are huge and most of the time, holes dogleg from one direction to another.
From the start of your game until the end, Splendido never runs out of surprises and of challenging holes that will really satisfy the golfer in you. To get you a view of the course, here are the features holes that you should watch out for when you play at Splendido.
Hole 1
Hole 1 is a short downhill par-5 and approaching the green willonly take 2 strokes, especially for a long hitter. However, the green can sure be tricky not only because it is well bunkered but reading the ball's break can be quite difficult as well.
Hole 2
Two is definitely not for the hacker as this 559-yard hole requires a strong hit that can carry the ball as far as 200 yards to hit the fairway which is far left away from the tee– and avoid the ravine.
Hole 4
Even though four is fairly short, this is one of the holes that you should not take for granted. The fairway doglegs to the right just around the ravine and then goes steeply uphill towards the green. When playing this hole, be sure that you have enough club when you reach the heavily bunkered green.
Hole 7
Seven is a hole that would require a strong and steady good shot from the tee to the green. This par 4 may be played straightway but beware for it is littered with traps– a large acacia tree and bunkers set on the left and OB right.
Hole 8
This par 3 hole is also considered a difficult hole on the front side not only because you have to avoid the ravine but you also need to be wary of the two-tiered green that makes it hard to correctly find the putting surface.
Hole 9
The ninth is simply terrifying– this 435 yard hole is not only long but golfers have to play uphill thus making it longer than what it really is.
Hole 13
This is one challenging yet very rewarding hole that needs a huge deal of concentration. In fact you may need to ply this hole several times before you can actually get to play it right. This 425-yard par 4 requires you to dogleg in one of the mountain's slopes where a large tree and bunkers await, making the hole more difficult.
AMENITIES:
A rustic Spanish-Mediterranean architecture greets visitors to the cozy club. Sporting an open-air ambiance, visitors are sure to also delight themselves to the aroma stemming from the club's restaurant. The Splendido Taal Golf Club is also known for its gastronomic delight, making it one of the best food stops in Tagaytay. The club is famous for its two restaurants, the Ladera Golfers' Lounge and the La Esquina Spanish Restaurant.
Splendido Taal Golf Club is a popular venue for weddings. Celebrities have been known to celebrate their special unions in this place. A recent one is of pop-singer Jolina Magdangal and rock drummer Mark Escueta (of Rivermaya).
Photos of Splendido Taal Golf