Verdemar/ Casa del mar golf club – San Remigio Batasan, Cebu
(Approx 3 hours from Mactan Island, 2.5 hours from Cebu City)
[PRIVATE GOLF COURSE]
H=18 P=71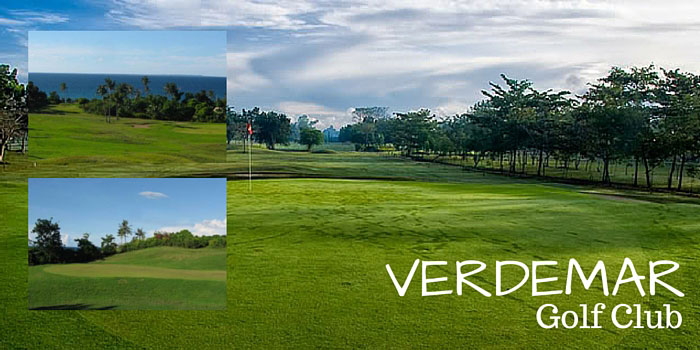 Verdemar Golf Course Description
In the province that houses the oldest city in the Philippines, Cebu, lies the Verdemar Golf Club. The club is naturally set to preserve the environment suggesting that nature carved its golf course. The club has an Arizonian type of layout featuring huge waste bunkers. It is surrounded by cactus, abundant tropical trees, and the breathtaking view of the sea. This can be very much reffered to as the harmonious meeting of the sun, sky, land and sea.
The 18-hole course features a unique par 6 hole, undulating fairways, huge waste bunkers, challenging greens and the Tañon Strait in the backdrop. Cactus growing alongside tropical trees punctuate the desert-like features of the course set in a tropical location with breathtaking views of the sea. All these are from the creative instincts of the world famous golf designer Gary Player.
Related Other Golf Course Within Cebu Alta Vista Golf and Country Club
Verdemar Golf Club have facilities that caters further needs of the player. These facilities include practice putting greens and tee houses on the fairways. It also includes a clubhouse that has a restaurant, bar, with male/female lockers and showers. The resort is located in a small cozy beach with crystal clear water. It also has large modern rooms, lagoon swimming pool, and other facilities. Accommodation is available in the Hotel that houses the golf club. This hotel is the Casa del Mar Hotel, along the golf course with special rates for golfers. Visa and Master cards are accepted in this hotel.
The club is located in the Northern tip of Cebu overlooking the Tañon Strait. It is about two hours drive from Mactan Airport and Cebu City just past Bogo. To get there, flying time from Manila is one hour and 15 minutes. The club is a two-hour drive along cemented roads, along the coastline, and along some mountain towns to Bogo.
How To Play
Verdemar Golf Club is a Private Golf Club and guests must be accompanied by a member in order to play. You may also book through GolfPH to have playing access to this golf course.
Related: See the complete list of Cebu Golf Courses
Tip for Tourists: You can still play at Verdemar Golf Club by booking directly with GolfPH. Fill out the form to your right and get your free quote today.
[thrive_2step id='16632′]

[/thrive_2step]
Facilities
Verdemar Golf Course Location, Map and Address
Photos of Verdemar Golf Course