Aznar Road Pardo Hills, Cebu City
[PRIVATE GOLF COURSE]
H=18 P=72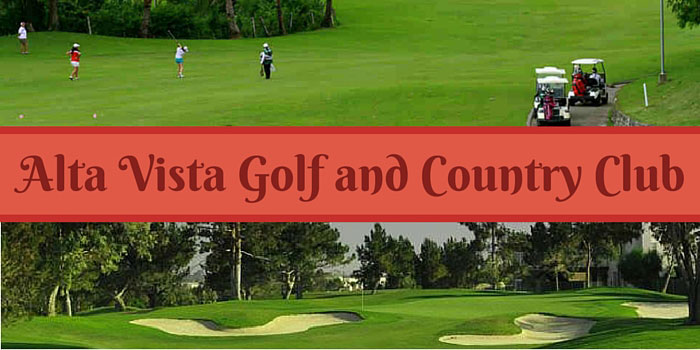 Alta Vista Golf Course Description
Alta Vista Golf and Country Club was built in 1994 in the city of Cebu, but it was not officially operational until 1997. This makes the course a considerably young course in comparison to many others in the Philippines. It was build by the Santa Lucia Realty and Development Inc Group and Aznar family, but all 18 holes of the the club were designed by legendary pro golfer, Gary Player.
Due to the fact that this course is located within Cebu City, you will find narrow fairways and small greens, but all are very well-maintained. Current reviews of the course have also shared that you will find the caddies to be quite knowledgeable about the course and the game, which is a unique feature that you may not always find here at other courses in the Philippines. It is not a known to be a flat course and please do expect to see a lot of water hazards along with an amazing view of the bay.
Related Other Golf Course Within Cebu Casa Del Mar Golf & Dive Hotel Resort
Alta Vista Golf and Country Club also has a driving range, practice facilities, a pro shop, , golfer's lounge, bar, and restaurant. gives various services to players. The original vision of the course was to be a private, members-only course, but as of recently, they have opened the golf course up to the public. It is not categorized as a semi-private course and for all non members, they operate on a first come first serve basis. The club facilities (except the restaurant and locker room) may still be restricted for the use of members only.
How To Play
Playing at this golf course requires membership. You may also book through GolfPH for a playing access to this exclusive course.
Nearby Hotels
Crown Regency Hotel
Tower 1,Fuente Towers,Osmena Boulevard,,Sta. Cruz,Cebu City
Marco Polo Plaza Hotel
Cebu Veterans Drive,Nivel Hills,Lahug,Cebu City
Diamond Suites and Residences
No. 8 Apitong Cor. Escario Street,Cebu City
Related: See the complete list of Cebu Golf Courses
[thrive_2step id='16632′]

[/thrive_2step]
Facilities
Availability
Walk-ins are allowed and membership packages for single, double and corporate are available.
Accommodations
Haciendas de Naga has the villas for overnight, weekend or vacation accommodations. The Avenue Plaza Hotel and Villa Caceres Hotel are also in the city. The villas are good for 2 persons and can be booked for P2,400 and P1,800 depending on room types.
Nearby Tourist Attractions
Camsur Water Sports Complex
Panicuason Hot Springs Resort
Malabsay Falls
Mount Isarog International Park
Other Alta Vista Golf Cebu City resources:
Alta Vista Golf Course Location, Map and Address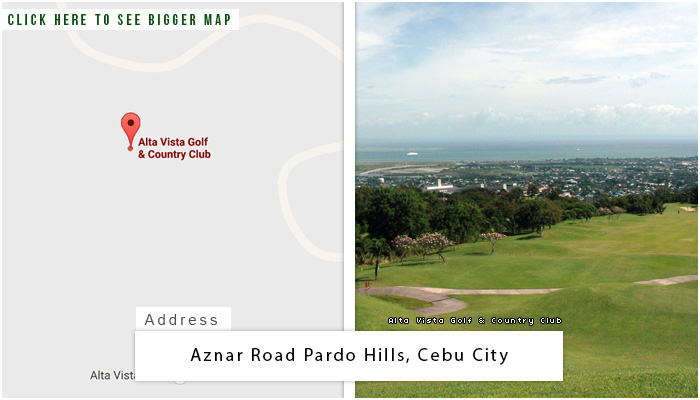 Photos of Alta Vista Golf Club