Ayala Southvale Village, Daang Hari, Las Piñas City
[COURSE CLOSED]

Southlinks Golf Course Description
Southlinks Golf Club is located at Las Piñas City. This flood free golf course just opened on the first quarter of February. Their fairways are planted with Zoysia Matrella grass surrounded with 18 holes patterned on rolling and narrow terrains.
On the months of September to May, this course might get windy, making it difficult to get a sure shot. Their sandtraps are very challenging because they are made out of silica sand in a pot bunker design.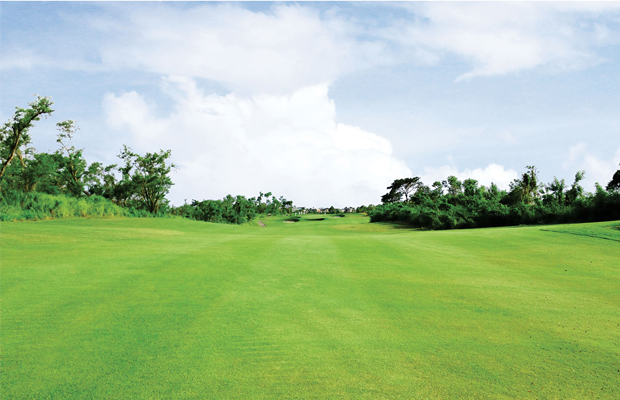 The facilities they offer includes a multi-bay driving range, clubhouse with a dining area, pro shop, male and female showers and lockers, and practice putting greens.
Related Other Golf Course Within Metro Manila Veterans Golf Course
Southlinks Golf Club is publicly open, but reservations must be done one week before the desired play date. Accommodations around area include the Acacia Hotel, Crimson Hotel, Parque Espana, Vivere Hotel, and the Bellevue Manila.
How To Play
You may also book through GolfPH to have playing access to this golf course.
Related: See the complete list of Metro Manila Golf Courses
[thrive_2step id='16632′]

[/thrive_2step]
Southlinks Golf Course Location, Map and Address
Southlinks Golf Course Review:
The Southlinks Golf Club is one of the new golf courses in town. Opened to the public in February 2014 by the Ayala Group, the 18-hole golf course was designed by Kevin Ramsey of Golfplan.
Click here for full review
Despite being a public course, the fairways and greens are well-maintained, and each hole is carved out from natural terrain. The tight fairways and the strong winds specially during September to May makes this an exceptionally tough course for high handicappers (N.B. Bring extra golf balls!). Sandtraps are circular/pot bunker in design, making it very hard for players to play out.
The course is about 30-45 minutes from Makati via the Skyway and SLEX and is readily accessible by taxi or private transportation. It has a multi-bay driving range and a practice putting green with surrounding bunkers. The clubhouse is pretty standard without any frills with a dining area, a pro shop, showers and lockers for male and female. Don't expect thick bath towels, nor do they provide fairway towels. Cart rentals are available.
The memorable holes are as follows:
1st Hole – a 581-yard par-5 that plays with the wind, with twin pot bunkers guarding the front.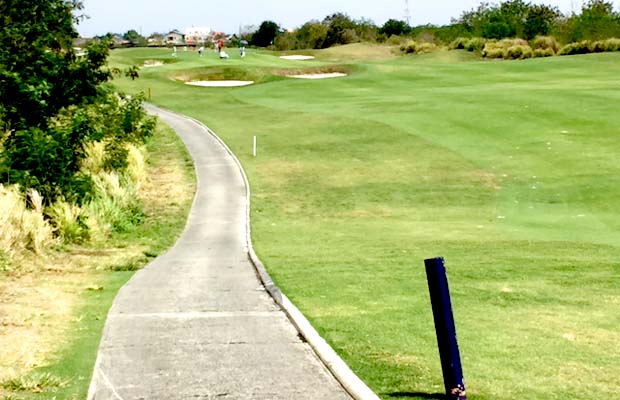 3rd Hole – a beautiful downhill par-3 with a lake at the back, and with a view of the 5th green on the other side of the lake. A pot bunker guards the left of the green for those who draw their shots, while slicers better be wary of the pot bunker on the right front of the green. Expect strong winds coming from the left to the right.
5th Hole – A 373-yard downhill par 4 that plays much shorter due to the strong winds that come from your back. The lake comes into play from the front and right, while a pot bunker awaits those who are long and left.
8th Hole – a dogleg right par-4 that demands an accurate shot from the tee. Going for the green in two may be a risky proposition due to a ravine cutting across the fairway around 100 yards from the flag, and a huge bunker guarding the front and right. Another huge pot bunker also guards the back and left of the green.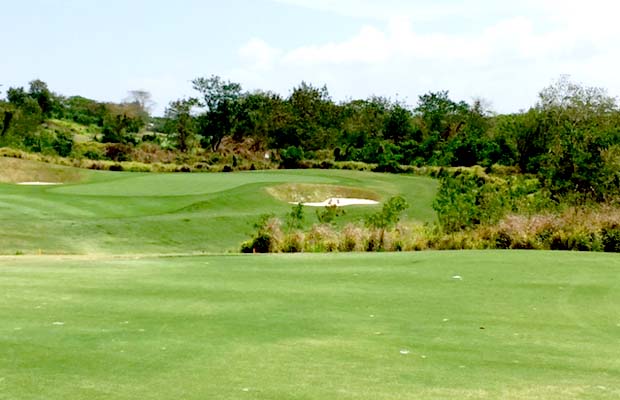 12th Hole – a shortish par-3 where the normal pin position (back left) is guarded by 2 pot bunkers.
14th Hole – a slight downhill par-5 with really tight fairways and big pot bunkers waiting to catch the errant shot.
16th Hole – a moderate length (179 yards) par-3, beautifully framed by a large tree on the right and a white house behind the green.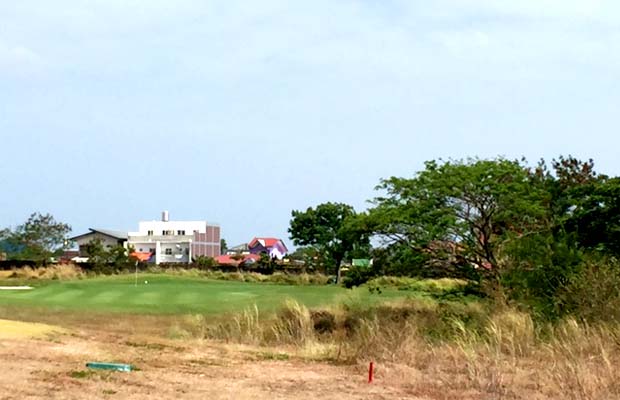 18th Hole – a long and tough par-5 as a finishing hole where accuracy is again at a premium.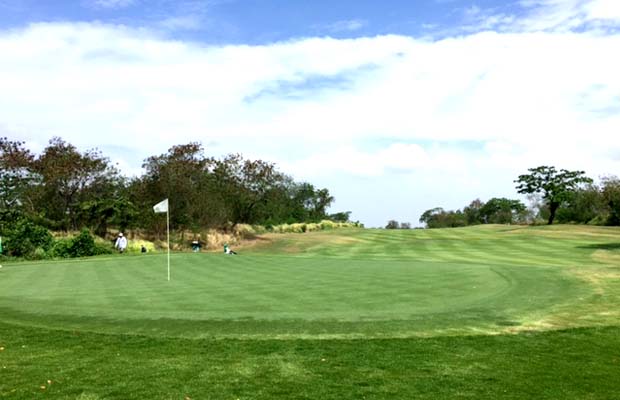 Not totally a links course, but close enough. An enjoyable round of golf awaits you at Southlinks Golf Club. That is, if you have enough balls with you at the start.
Photos of Southlinks Golf Club