When I started compiling this list, I realized that there were a lot of courses in the Philippines that I had not played. To have labeled this article a Philippines top 10 would have brought in a lot of vitriol. That I could handle, what I could not handle was a probable accusation that I was biased to courses in and around Manila.
There are a lot of courses to the south, Cebu Country Club, Palos Verdes in Davao; To the North you have Camp John Hay, Baguio Country Club, Hacienda Luisita. To have left these out without sampling all of them (I have sampled a few among these but not all) would have been unfair. So I stuck to the ones which are easily accessible. That meant, courses like Manila Golf and The Country Club got left out due to the sheer difficulty of getting on them for the majority of the paying public. I even changed the article to reflect a Top 10 instead of my earlier intention of making this a Top 5.
• Faldo Course @ Eagle Ridge
• Langer Course at Riviera
• Ayala Greenfields
• Mount Malarayat Golf and Country Club
• Sherwood Golf and Country Club
• Valley Golf (South Course)
• Sun Valley
• Dye [email protected] Ridge
• Southwoods: Masters Course
• Calatagan Golf Club
I would normally give you a write up of what each golf course entails but I would not able to capture that without giving attention to each nuance of what these courses have to offer. So here's my disclaimer.
Disclaimer: This list reflects the rankings of courses that #1 I played in, and #2 are graded on the 5 features that I value the most.

1) Ease of access: Let's face it. If the course is located a 100 miles away, you would have to think twice before traveling there. Not unless they offer a complimentary massage on arrival with some beer thrown in. This ain't happening so the closer the course, the lesser the traffic, the better they score. Also, if the course you want to play is so private that you would not get on without a presidential order, then it's not worth it.
2) Cost: Yeah, for most of the paying public, cost remains a deciding factor.
3) Course conditions: All weather? Check. Lush Fairways? Check. Smooth greens? Check. No one wants to play in slush and mud especially considering the amount of rain Philippines gets every year.
4) Degree of Difficulty: Who doesn't want to play on courses with 250 yard carries and water on every shot. (Hint: I am not one of those).
5) Course Aesthetics and Amenities: beautiful vistas, swans in the lake (ok made that one up), gorgeous scenery, fluffy towels, chance of a massage, pool (the swimming variety) and good food. The whole package.
I am not going to include info like caddy knowledge since all the courses on this list will give you great caddies if you request for a Class A companion. In my opinion the Class A caddies are often the best.
Scoring will be on a scale of 1-10 with 10 being the best. (Degree of Difficulty, 10 being the highest difficulty).
So here you go. Without further ado, here are the scores.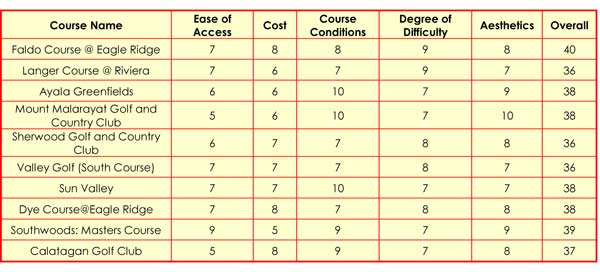 Note# Sun Valley is the only public course in this list and believe me it rivals most of the courses it came up against in this face-off.
Now, I have not aligned them in any particular order but these scores are my views. I just totaled the points and came up with what I felt was an unbiased view of these courses. Let me attempt to explain myself.
Ease of access
Nearly all courses are not within what we call Metro Manila proper but are within 1 hour drive of almost anywhere in Manila. The only exception is Calatagan which is some ways off and can be accessed by passing through Tagaytay. It is about an hour ride from Tagaytay. Maybe it's me but accessing courses east of Manila seems an easier bet. Pass through C5 and then access Sun Valley, Valley golf. The courses South of Manila can be accessed by either Daang Haari road or SLEX. Southwoods is bang on SLEX and is an easy ride from Manila.
Cost
All the courses listed here carry a good discount rate if you are a member of Golfph (with the exception of Valley golf and Ayala Greenfields). Courses like Southwoods which have a tourist policy are too pricey. A game of golf costs Php 8,500. I am not sure if any course except August National/The Old course are worth that much money. That's the price of exclusivity though. Malarayat has a stay overnight promo for 4,500 and a round of golf for 2.
Great deal if you ask me. Riviera comes up bottom of the pack as well since their weekend rates are prohibitive at Php3,300. There is however, a rainy season promo which cuts the green fees post 12:00 PM to around 900 which is a steal for a damn good course. Weekday rates for Eagle Ridge courses are 1,200 which is daylight robbery (with the golfer being the beneficiary). Amazing deal for 2 fabulous courses.
Course Conditions
This is a tough one since some courses are dry in the summer months while the fairways are lush during the rainy season. I have played most of these courses in both dry and wet conditions and have a pretty good idea of what quantifies are exemplary course conditions. My bet is on Malarayat. Rain, hail or sunshine, the course conditions are amazing. I have played this course in pouring rain and when my round got over, I had no mud on my shoes/pants. Now, that is excellent drainage. What a course and beautifully managed. Ayala Greenfields and Sun Valley are the other 2 courses which are equally impressive with course conditions as good as Malarayat. I have seen the Dye course at its worst and it is not a pretty sight. The greens are bald and overgrown in some patches. Not a pretty sight for what is a pure shot-maker's course.
Degree of Difficulty
The 2 toughest courses in my book are the Faldo and the Langer courses. The Langer course @ Riviera is long and narrow. It is a par 71 which requires patience and accuracy off the tee. The greens are undulating and slick. Forced carries don't help either. The Faldo is the toughest course in the Philippines and is long and demanding. Cleverly placed bunkers and narrow landing areas make for what is arguably the toughest test of golf in the Philippines. Many consider the Dye course as a beast but believe me the top 2 are definitely in a class of their own. Ayala Greenfields and Sherwood name fast, slick greens as their defense against a good score. Valley South is another course which is narrow and has trees on all sides for almost all shots. Throw in some elevation changes and it makes for a challenging course.
Amenities
The Southwoods and Malarayat courses have no equal when it comes to the fluffiness of their towels. The first thing most golfph members demand are soft fluffy towels (I am looking at you Errol and Raymond) and these clubs provide those and more. Of course, clean shower rooms and a decent selection of grooming products are a must, and most clubs mentioned here provide all. Some courses on here have swimming pools and massage rooms. Some courses here also have hotels on the property to facilitate overnight stays and have fantastic discounts/offers which avid golfers can avail.
Well, here it is; my unbiased view of the top 10 courses around Metro Manila. If you disagree, then sound off on the boards. I look forward to hearing any and all comments.
Course Review and Pictures were written and submitted by GolfPH Member, Harry Syles.
These other articles From Harry Syles might be helpful to you