Barangay Javalera, Gen. Trias, Cavite
[PRIVATE GOLF COURSE]
FALDO COURSE (H=18 P=72 Y=7,443)
Slope Rating: FALDO COURSE – Blue : 133, Red: 127, White: 130, Gold: 137
DYE COURSE (H=18 P=72 Y=7,323)
Slope Rating: DYE COURSE – Blue : 138, Red: 122, White: 131, Gold: 144
AOKI COURSE (H=18 P=72 Y= 6,990)
Slope Rating: AOKI COURSE – Blue : 128, Red: 124, White: 125, Gold: 133
NORMAN COURSE (H=18 P=72 Y=7,123)
Slope Rating: NORMAN COURSE – Blue : 126, Red: 124, White: 119, Gold: 133
Maintenance Day – Monday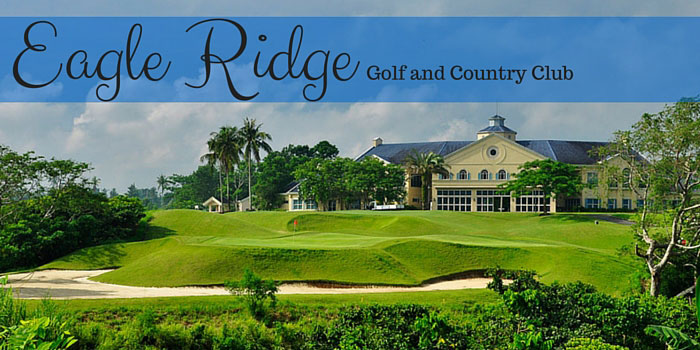 Eagle Ridge Golf Course Description
Way down to south of Manila in Gen. Trias, Cavite, is the largest golfing facility in the Philippines, the Eagle Ridge Golf & Country Club.
The golf club houses and takes pride of having not one or two but four championship level courses. These golf courses are designed by four well-known pro golfers and architects; Greg Norman, Nick Faldo, Isao Aoki, and Andy Dye.
These various golf courses suit the golfers with their varying levels and skills. They can definitely have the complete golfing experience they've always wanted. The golf courses are an 18-hole, 72-par course with different lengths of yards, from shortest to longest; Aoki course has 6,990 yards, Norman course has 7,123 yards, Dye course has 7,323 yards and Faldo course has 7,443 yards.
One of the golf course of the four was called as the "Beast of the East" which is the Andy Dye designed golf course, as the course is strategically filled with deceptive bunkers. These bunkers are pretty deep and Andy Dye didn't need water to make a course tough. Dye used the lay of the land to add difficulty to the course along with diabolically placed sand traps.
To get there is only 45 minutes to one hour drive from Makati City,through the route of South Superhighway and Carmona, Cavite.
Related Other Golf Course Within Cavite Manila Southwoods Golf and Country Club
How To Play
Eagle Ridge Golf and Country Club is a Private Golf Club and guests must be accompanied by a member in order to play. You may also book through GolfPH to have playing access to this golf course.
Highlights
– Titled "Best Kept Secret in Philippine Golf" by BusinessMirror News
– 4 championship golf courses designed by well-known pro golfers and architects (Greg Norman, Nick Faldo, Isao Aoki and Andy Dye).
– Largest golfing facility in the country.
– A 45mins. to 1hour drive from Makati City. Accessible via South Superhighway and Carmona.
– Host of Sta. Lucia's Golf Tour 2013 – Manila Leg
Related: See the complete list of Cavite Golf Courses
Tip for Tourists: You can still play at Eagle Ridge Golf and Country Club by booking directly with GolfPH. Fill out the form to your right and get your free quote today.
[thrive_2step id='16632′]

[/thrive_2step]
Facilities
Other Eagle Ridge Golf Cavity resources:
Eagle Ridge Golf Course Location, Map and Address
Eagle Ridge Golf Course Review:
One of the largest golfing facilities in the Philippines, it takes pride of place in having not 1 or 2 courses but 4 championship level courses made by 4 legends of the game.
Click here for full review
• Aoki
• Norman
• Faldo
• Andy Dye
For the purpose of this review, we will talk about the 'Beast of the East', the Andy Dye creation. For the uninitiated, there have been a lot of eulogies read before and after a round. This course will knock you down and keep pounding away till you surrender and then smack you down one more time, for bad luck!! Often mentioned phrases include, "I almost Dye'd today". "Dye another Day", "Live and let Dye". I dare to challenge anyone who does not consider this course a test of your golfing mettle. It has a course rating of 74.4 and a slope of 141. Consider this against the US Open Championship, which was hosted at Merion East, which has a course rating of 72.9 and a slope of 144. The slope rating of a golf course is a measure of its difficulty for bogey golfers. The term comes from the fact that when playing on more difficult courses, players' scores will rise more quickly than their handicaps would predict.
You will be sharing a clubhouse with the Faldo and Norman courses. The Dye clubhouse has not been in use for some time now, presumably due to the costs of maintaining multiple clubhouses. The clubhouse has your standard fare of food and drinks that you can avail of. Best to stock up before you start since you will need all the energy you can muster. The course has a lot of elevation changes and forced carries on quite a few holes. It is best to get a golf cart than walk it.
We teed off at 8:00 AM from the 7th hole. Due to the clubhouses being shared, all flights must tee off from the 7th. The 7th is a deceptive hole. Your tee shot must carry 190 yards to the fairway. After that, all you have left is a routine pitching wedge to the green. There is danger on the right of the green in the form of a deep ravine. The 8th hole is a par 3 around 160 yards. Best to take 1 club less as the green sits below the tee box and the wind is usually from the back towards the green. There are big bunkers guarding the left of the green and an unusually steep drop to another bunker on the right.
If you do get your ball into the bunker on the left or right then pray, hard!! They are pretty deep bunkers and are characteristic of a course that has water on only 1 hole. Andy Dye does not need water to make a course tough. It is a testament to his design here that he used the lay of the land to add difficulty to this course along with diabolically placed sand traps.
The 9th is a par 5 measuring 500 yards from the blue tees. The fairway is wide and inviting and the challenge will come with the second shot. There is a ravine that bisects the fairway and the green at around 100 yards to the green. It is advisable to lay-up and hit a pitching wedge into a green which is peppered with bunkers all around. Do not end up short of the green or you will face tough sand shot from a bunker that is 15 feet deep with a steep lip to the green. The sand in the bunker is hard and coarse and since it had rained a few hours before I had teed off, the sand was unyielding. Let's skip the part of how many shots it took me to get out of that hell hole. Get out I did and we moved to the 10th which is an interesting hole. It is only 320 yards in length but has a unique feature. There is a bunker around 180 yards down the fairway that rises up like a volcano.
The fairway slopes to the right so you play your second shot from below the feet. If you are a confident sort, then try and hit it over the bunker around 220 yards and you will find yourself next to another bunker with an easy pitch to the green.
11th is just a brutal par 5 with a dogleg right. The green actually sits below the fairway and has deep bunkers on the left which can catch an errant shot. If you do manage to miss the bunkers on the left, chances are your shot might just roll down to the green which slopes heavily to the right. 12th is a routine par 3 which will give you a good chance of a birdie. The 14th is a long par 4 at 440 yards. The defining feature of this hole is that the fairway runs off diagonally to the left and you have to carry your tee-shot 200 yards over water. If the wind is against you, better get ready to give it a right heave. The fairway is slightly uphill with a volcano shaped bunker guarding the front left of the green. The 15th is another long par 4 at 468 yards. Nothing special, just long, too long for a weekend player. The 18th is another long par 4 at 455 yards. The fairway narrows as you approach the green and it requires 2 good shots to hit the green in regulation.
Hole 1 is a another par 4 over 400 yards (It would be considered a tough opening hole but for the fact that everyone now tees off on the 7th for reasons I mentioned above) which doglegs to the left. Aim to the right off the tee box since there is a deep recess towards the left side of the fairway. There are also bunkers guarding the left of the green so it's better to stay right. Hole 2 gives you some respite with its length but with a bunker running all along the right of the fairway you cannot afford to miss right. There is also a strategically placed bunker on the left of the fairway and an easy hybrid should get you in position for a shot at the green. The green is like an oasis in the middle of a desert with sand on 3 sides. If you do miss, miss long (or hit long).
Hole 3 is oddly judged as a Handicap 17 and the second easiest hole on the course!! It's a Par 3 at 228 yards. How easy is that? Oh well, no one plays a Dye course expecting it to be easy so why am I complaining? The wind that day was blowing all over and I had a tough time deciding which club to use. I settled for a 3 wood and laid into it. I missed left and found myself in thick rough. I managed to get out fine and settled for a bogey 4. The 4th is handicap 1 and the shortest Par 5 on the course. If you miss right from the tee, it may be difficult for you to see the green due to a bunker framing the green (Remember the fondness for tall volcano shaped bunkers). The green is small and has 2 deep bunkers waiting to catch that slightly misjudged shot. Hole 5 is a par 4 with a blind tee shot to a fairway that sits well above the tee box. There is a tall antenna in the distance that acts as your target. The fairway is wide and inviting so fire away. If you think the finishing hole is easy, think again. It is the longest par 4 on the course and just a wee bit shorter than the par 5 4th hole. It is 465 yards in length but straight and flat. The length is the only consideration here. We finished our 18 holes in around 4 hours (not too bad for a foursome).
The facilities at Eagle Ridge ensure that you can have a fun filled weekend with the family: Golf for dads/moms, a Family and Sports clubhouse for the kids, badminton, bowling and even movies. They even have a resort-style swimming pool. Microtel Inn and Suites also have a 60-room hotel within the premises. The location is around 56 Kms from Makati with Tagaytay around 30 minutes away. Take the Carmona exit when you come down from the SLEX, go along the Governor's drive road till you pass SM Dasmarinas on your right. Around 5 minutes from there, you will see a McDonald's, that's your cue to turn left and carry on for another few kilometres, till you see Microtel on your right. Turn in and proceed to the clubhouse. There are cleared marked direction boards to guide you.
If you get a chance to play any of its courses, you won't be disappointed. If you play Andy Dye, you may come away with an empty feeling of "what the hell did I just go through". That course is a tough and brutal test of your golfing mettle. I learned a lot on the course today: 'don't try to be heroic. You cannot carry a 200 yard 5 wood over a ravine and into a green guarded by 20 foot bunkers without ending up with egg on your face". "Don't try to fight the course, learn to live with its undulations and cleverly placed hazards". "Don't be overawed by its reputation, or you will have lost the battle before it has begun". A good score is there to be had, just don't get fooled into thinking about what will go wrong. The landing areas are generous and the greens slow. Dye's creations are notorious for playing tricks on the mind and this is what the course does best. 'Still with me? Good, you are a fighter aren't you'? 'You wouldn't be playing Dye and hankering to go back to it if you weren't. Now get out there and try to lower your score. What! You broke your 5 wood trying to reach that Par 5 in 2? You should know better than to play with a 5 wood. Let's try a 3 wood shall we'?
Photos of Eagle Ridge Golf Club