Bo. Kabilang Baybay, 1 Southwoods Ave., Carmona, Cavite
[PRIVATE GOLF COURSE]
H=18 P=72
Manila Southwoods Golf Course Description
Manila Southwoods Golf & Country Club (The) is one of the most exclusive courses in the Philippines. It is a rather new course as it was just built in 1992, but it has quickly gained international recognition by not only the Asian Monthly and Audobon International group, but also visiting golfers worldwide. Asian Monthly dubs this course as the "Best Environmentally Responsible Golf Course" and the "Most Challenging Private Golf Course in the country."
There are two 18-hole rounds called the Masters Course and the Legends Course, which were both designed by legendary golfer, Jack Nicklaus. Each course has notable holes to challenge every player. The Masters Course is a long course, where you will encounter many bunkers, narrow fairways and watch out for hole no 9.! The Legends Course is a shorter round of 18 in comparison to the masters with bunkers designed mainly on the left side of the fairways, water hazards on the right side and a difficult hole no. 16.
When you visit the course, you will see that they have a beautiful facility and attract many International tournaments to be held here. There is a clubhouse, banquet hall, formal dining room, Jacuzzi, massage rooms, and other amenities for any golfer or family member who may accompany a shareholder.
Related Other Golf Course Within Cavite Puerto Azul Golf and Country Club
Manila Southwoods Golf and Country Club is a private course, so only members are allowed to play the round and access its facilities. For visitors, please contact us for a members endorsement. The course is approximately 30-45 minutes south of Makati.
How To Play
Manila Southwoods Golf and Country Club is a Private Golf Club and guests must be accompanied by a member in order to play. You may also book through GolfPH to have playing access to this golf course.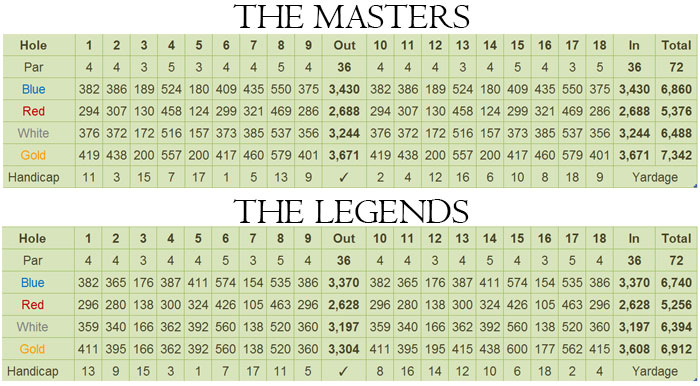 Tip for Tourists: You can still play at Manila Southwoods Golf and Country Club by booking directly with GolfPH. Fill out the form to your right and get your free quote today.
[thrive_2step id='16632′]

[/thrive_2step]
Facilities
Related: See the complete list of Cavite Golf Courses
Other Manila Southwoods Cavite resources:
Manila Southwoods Website
Manila Southwoods Facebook page
Manila Southwoods Golf Course Location, Map and Address
Manila Southwoods Golf Course Review:
If you are looking for a great golf course to play in that is just outside Metro Manila, then the Manila Southwoods (Masters Course) should be it. Not only is it just 30 minutes away from Makati via the SLEX Skyway, it is a championship course that hosts a regular Asian Tour event.
Click here for full review
Manila Southwoods Golf and Country Club has two (2) 18-hole golf courses designed by the great Jack Nicklaus – the Legends and the Masters. While the Legends course is more laid back, the Masters course is a brute – literally and figuratively. None of the par-3's are less than 170 yards from the blue tees. 15 out of the 18 holes will have water running down one side of the fairway or forcing a golfer to cross over (N.B. in the par-5 4th, the normal play is to cross a ravine twice!). Although laid out over a relatively flat land, the course is made tougher by the length of the holes, the speed of the greens and water in play. The course maintenance is excellent, with the rough being thick but manageable in a lot of places. The Masters clubhouse is also well-maintained and manned by a very courteous staff and the toilets even have bidets!
A course with a lot of water in play can be a frightening prospect for those without a lot of confidence in their driver. Here are some of the memorable holes (NOTE: For a change, I shot this course using an infrared camera):
Hole 2 – this is a long par-4 that usually plays against a strong headwind. To get to the green in 2, one has to hit a minimum of 160 yards across a meandering lake. Being a short hitter, I have always chosen to just hit my second shot to the right of the hole (where there is a lay up area) and play a 70-yard pitch shot for my 3rd shot. A bogey on this hole is a good score.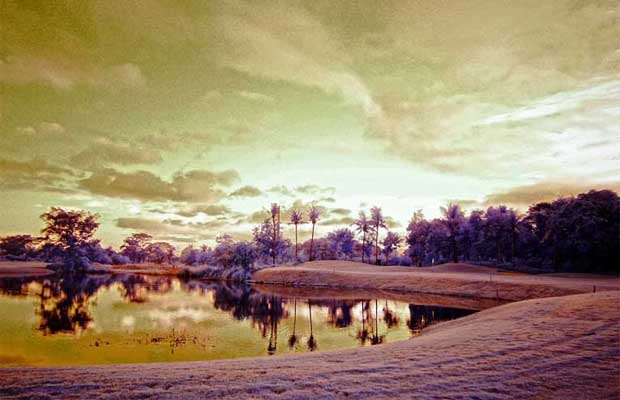 Hole 3 – a 180-yard par-3 against the wind, with water guarding the left and a morass of bunkers to catch the balls of slicers.
Hole 4 – a snaking par-5 that is carved up twice by the same ravine. The green is guarded by the ravine in front and on the right, and a huge bunker on the left. A beautiful but challenging hole that plays against the wind.
Hole 6 – a tough dogleg par-4, the handicap-1 hole on the course. The teeshot plays against the wind, a bunker complex and lake guards the corner, and one has to carry a ravine to reach a green that is guarded on both sides by a plethora of bunkers.
Hole 9 – a supposedly straightaway par-4 that is made tougher by having an island green in addition to mostly playing against the wind. The fairway slopes downward as an added challenge for those trying to hit the green in 2. A beautiful but scary hole.
Hole 10 – another beautiful hole that plays against the wind, is well-guarded by a stream running infront of the tee and continuing down the left side of the fairway, and a lake infront of the green. This hole was chosen as one of the 100 best holes in the world sometime in the late 90's by Golf Magazine.
Hole 15 – a medium length par-5 that has a long lake running down the left side of the hole, from the middle of the fairway up to the green. A bunker complex defends the right side of the green.
Hole 16 – a long par-4 with a lake infront of the elevated tee that requires a forced carry of at least 180 yards. Slicers beware. The green is flanked by bunkers on both sides.
Hole 17 – a 180-yard par-3 with a bunker complex infront and to the right of a redan green. This green favors a draw.
After surviving this tough course, one can console themselves with a sumptuous meal at the Clubhouse verandah, which has a wide variety of a la carte dishes and a set meal table. Do try the sizzling boneless bangus (milkfish), as it is to die for.
A tough test of golf in a place just outside Metro Manila, with really good amenities and facilities. This sums up one's experience in Manila Southwoods (Masters).
Pictures were taken and submitted by GolfPH Member Atty. Raymond Fortun
Photos of Manila Southwoods Golf