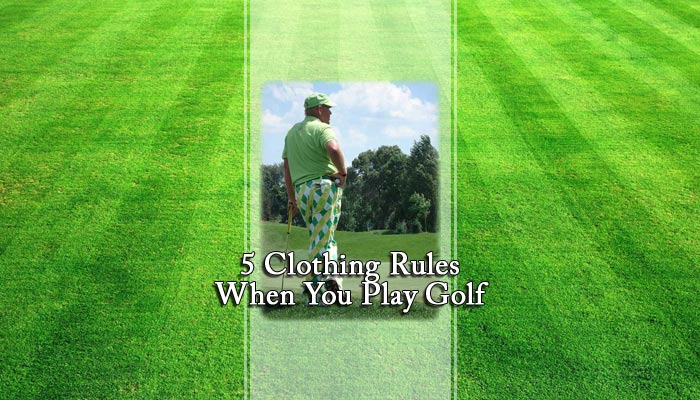 Golf has always been a game played by royalties, ladies and yes– gentlemen. That is one of the reasons why there is still a sense of formality whenever you would play golf in today's society. This is shown especially in the type of clothing that people wear whenever they would play. Nowadays, most golf clubs and golf courses have dress codes that are being strictly implemented. So if you are planning to go with your friends or make a business deal with one of your clients over a game or two of golf, it is best if you would know the basic rules of golf clothing and golf dress etiquette that you should never break.
Never wear t-shirts. The proper attire to wear when you play golf is usually a collared shirt. This is the foremost important rule when it comes to golf clothing that golf clubs are strict about. So, if you want to be able to play golf, try wearing a polo shirt instead. This is very much comfortable and cool as a t-shirt although the only difference is that it has a collar. Women, on the other hand, are greatly encouraged to wear a collared shirt that does not expose the midriff and should just have a modest opening in front.
Jeans are not allowed. Golf players are required to wear khakis or golf slacks. Whatever material or color that you might be wearing, make sure that is has belt loops, which more or less also means that you should wear a belt when playing golf. Aside from that, you should also try to avoid wearing slacks with cuffs since cuffs can accumulate sand and may possibly cause hazards to players.
Shorts are okay, but not too short. This rule applies for both men and women. Although wearing of shorts is allowed, you should always remember that it should not be too short nor too tight. Also, your shorts should be tailored like casual trousers and should be just above the knee. Like your golf pants, they should also have belt loops.
Wear proper shoes and socks. Never attempt to wear rubbers shoes or sandals when you go to a golf course. There are specific golf club shoes that you can wear which have soft spikes, instead of those conventional shoes with metal spikes. When it comes to socks, you need to keep in mind that when wearing long trousers, your socks need to match them. On the other hand, if you are just wearing shorts, then your socks should be light colored. Also, remember that you should change into your golf shoes only in the locker room and not at your car or in the parking lot.
Tone down the colors of your clothing. This is best applicable especially when you are playing a game of golf with business associates or perhaps trying to close a business deal with a client. Keep in mind that brightly colored or loud patterned polo shirts are a distraction, so it is best if you would just choose something that is simpler and colors that are more toned down.
These are the basic things that you need to remember regarding golf clothing. When you're not sure what to wear, never hesitate to call the golf club beforehand. These rules are not imposed to limit you, but are done to show respect to other players  and a tribute for the ancient game of golf.