Golfers – both professional and amateur – are sure in for a treat when they play in Canlubang Golf & Country Club. The club offers the best of both worlds: the excitement of playing challenging holes, and being an escape from the hustle and bustle of life. One can really only expect a wonderful round of golf in this place. Here is a short review on this great club:
The North and The South
Canlubang Golf is actually two courses, the North and the South. The North's known for its rather long and generous fairways. A highlight of this course is Hole 17, a par 5 monster with a ditch right after the fairway. To make things worse – or in other cases, exciting – this hole also contains the one of the smallest greens in the club. Golfers playing in this hole would definitely need to have accurate shots.
The South, on the other hand, is otherwise known for its short – yet surprisingly challenging at some parts – length. Hole 5 is particularly a favorite among players, which is known for the deep ravine right smack in the middle.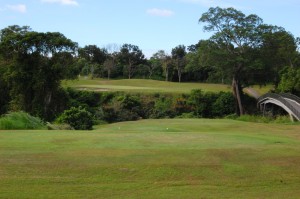 Nevertheless, what makes each course such a hit is the layout. Both gives out a great sense of nature and challenge, that actually makes you experience a different game each time you visit. Plus, the North has a wonderful twin course that'll dazzle any club visitor, and the South has a jaw-dropping view of a deep ravine!
Nature at its Best
The entire layout of Canlubang Golf is situated right below a mountain (Mt. Makiling). As noted by its staff members, the club's layout features just placing the hazards (mostly the traps and bunkers) along the natural terrain – which means that players actually play in the most natural form. This not only provides a different kind of challenge, but also creates a sense of nature's appreciation for visitors.
Golf Pillar
Almost at its 40th year (actually, the club has just celebrated its 36th anniversary), Canlubang Golf is a tried and tested pillar of the Philippine Golfing scene. Premier tournaments have graced the greens, and golf legends have stepped in to test their mettle in this club. Also, the club enjoys a steady and faithful following from players, and as well international golf standards, with the club consistently winning golf accolades throughout the years.
Canlubang Golf definitely will provide players from all levels a wonderful golfing experience. The club gives the perfect balance of relaxation and strategy, with the added benefit of being one of the top courses to visit in the Philippines. Make sure to play at this club.