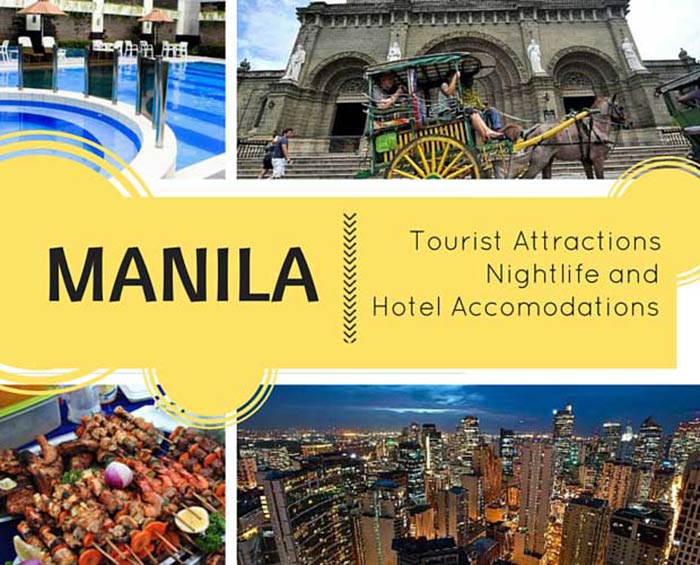 Life in Manila, Philippines
The weather is great, the people are fantastic and there are so many great courses to choose from.
But what is there to do, when you are done golfing in Manila?
The capital of the Philippines is Manila. It sets the archipelago's rhythm and is a pulsating hub that blends the Oriental with the Occidental, the quaint with the modern, the religious with the profane, and the mundane with the extraordinary.
Manila has been witness to the Philippines' history and growth. It was plagued with bombs during the Second World War, and has housed 14 presidents. Its beauty has withstood the test of time
At the heart of Manila's history is Intramuros. It features the grand Manila Cathedral with its detailed stone carvings and stained glass mosaics; Fort Santiago, the site of torture chamber and dungeons; and a favorite wedding spot, the San Agustin Church.
Greater Manila, made up of 11 cities and five towns, us where the country's most prestigious business addresses and trendiest leisure establishments are found. Fashionable hotels, restaurants, discos, music bars, boutique and specialty shops converge around the sleek Ayala and Ortigas Centers.
Other major cities include Quezon City, also an entertainment hub as well as a government center; Marikina City, the shoe center of the Philippines; Paranaque City, known for its dry goods and seafood markets and restaurants; and Las Pinas City, which houses the world's only bamboo organ at St. Joseph's Parish Church.
Calabarzon, which is my favorite area to golf compromised of the five provinces of Cavite, Laguna, Batanggas, Rizal and Quezon, is only a few hours away from Manila. The area boasts of great destinations and leisure activities for day trips or overnight gateways as well as export processing centers.
MANILA TOURIST ATTRACTIONS
~Manila National Museum
Located at the former Senate building, it houses many artworks by renowned Filipino artists, including Juan Luna' Spoliarium.
~Museum of the Filipino People
Located almost beside the National Museum, it houses artifacts from different regions of the Philippines displaying the diverse and colorful culture this archipelago has to offer.
~Intramuros
This walled city steeped in Old Spanish history is where several Spanish churches and other landmarks are located, such as the Manila Cathedral, San Agustin Church with its 4,500-pipe organ, and the parks such as the Puerta Real Gardens and the Baluarte de San Diego.
Did we forget to mention that there is a golf course built right inside of this place?
~Rizal Park (Luneta)
Here is where you can see the monument of National Hero Dr. Jose Rizal. A few meters away is a Light and Sound Show, held at the exact place where he was executed. It is also a great place to stroll ad enjoy picnics with your family.
~CCP Complex
Houses the Cultural Center of the Philippines (CCP) that has a main theater (Tanghalang Nicanor Abelardo), little theater (Tanghalang Aurelio Tolentino) and experimental theater (Tangahalang Huseng Batute), the Philippine International Convention Center, Folk Arts Theater (Tanghalang Francisco Balagtas) and the Manilav Film Center. This cradle of arts and culture is located along Roxas Boulevard. Ballets, symposiums, concerts and plays are staged here.

~Coconut Palace Complex
Come marvel at how the different parts of the "tree of life"
The coconut tree are put to use in this by the sea.
~Museo Pambata (Children's Museum)
Museo Pambata is the first hands-on interactive children's museum in the Philippines. It has an exciting learning center with six theme areas, namely: Kalikasan (Enviroment), Maynila Noon (Old Manila), Tuklas (Science), Paglaki ko (Carrer Option), Katawan Ko (Body Works) and Bata sa Mundo (Children in the Global Village). It also has a reading resource center and children's playground. It is also a venue for children's activities such as storytelling, puppet shows and various workshops.
~Greenhills
It is an establishment bargain loves' paradise with rows upon rows of stands selling almost everything, from jewelry and clothes to accessories and the latest electronic gadgets.
~Quiapo Church
Home of the Black  Nazarene whose feast is celebrated every January 9, and attended by millions of devotees who have been touched by the Nazarene's miracles. The Black Nazarene is an image of Christ brought by Augustinians in the 17th century, and is also a haven for bargains.
~Las Pinas Bamboo Organ
Located is St. Joseph Church in Las Pinas, the bamboo organ gets full attention from musicians from all over the world during its annual festival.
~Malacanang Palace
The presidential home and seat of the government's executive branch.
~Manila Zoo
Check out one of the most historic zoo's in Asia. Make sure you use Zoo Discount Coupons.
~Baywalk
Found along Roxas Boulevard, it is a perfect haven for lovers and families alike. It has a stream of al fresco restaurants serving fresh seafood and other Filipino cuisine. It is best to go here in the afternoon, just in time to see the spectacular sunset mirrored on the Manila Bay.
~Malate
Famous for its night life, where almost all bars, restaurants and clubs are located.
~University Belt
A hub of learning institutes like Far Eastern University, University of the East, Centro Escolar University. Mapua University, University of the East and San Beda College makes up the Unversity Belt along Recto Avenue in Manila.
~Manila's Chinatown
Located in the Binondo district, Chinatown symbolizes the long history of Chinese presence in the Philippines pre-dating the arrival of the Spaniards. The Chinese have especially in reatail trade and their culture, which have been absorbed into Philippine life.
~Chinese Cemetery
Members of the Filipino-Chinese community have mausoleums three stories high, complete with amenities like living rooms, bedrooms, bathrooms, kitchens and even mailboxes.
~Araneta Coliseum
Located in Cubao, Quezon City, it is the biggest covered dome in Asia. Beauty Pageants, concerts and the games of the Philippine Basketball Association and University Athletics Association of the Philippines, to name a few, are held here.
~Tagaytay
Only a few hour's drive from Manila is the refreshing wisp of a city that is Tagaytay. Located in Cavite, perched atop a ridge, Tagaytay offers the most splendid views of Taal Volcano – the world's smallest.
There are also several golf courses on the area with amazing views.
~Corregidor
Aptly called "The Rock," Corregidor lies at the mouth of Manila Bay. This tiny island was the scene of much fighting between the Filipino-American forces and the Japanese during World War II. Today, it is a hauntingly historic tourist attraction.
~Laguna hot springs
The area of Laguna around Los Banos trades heavily on the health properties of its hot springs, which bubble from the lower slopes of Mount Makiling.
~Mount Makiling
The dormant volcano of Mount Makiling is identifiable by its shape – like a reclined woman whose spirit is said to protect the place.
~Pagsanjan
Francis Ford Coppola chose Pagsanjan Falls, 80 kilometers southeast of Manila, as the location for the final scenes of apocalypse now. Today, tourists come here to shoot the rapids, especially during the rainy season when they are most thrilling.
MANILA SPECIAL INTERESTS
~Festivals
Feast of the Black Nazarene – January 9
Sto. Nino Fiesta of Tondo – January 15; A procession of a hundred Sto. Nino images participated in by the people of Tondo. Street dancing is the highlight of the celebration.
Araw ng Maynila – June 24; the Manila Film Festival is usually held during this day.
La Naval de Manila – every December
MANILA HOTELS AND ACCOMODATIONS
(check our listings)
MANILA FOOD AND DINING
Metro Manila has various restaurants, cafes and food stalls offering a wide range of dishes.
WHERE TO GOLF IN MANILA
If you are from out of town and want to play golf directly in the city. Here is a list of the more popular public golf courses that are available.
Villamor golf course
Philippine Navy golf course
Veterans golf course
Club Intramuros golf club
Camp Aguinaldo golf club
Army golf course
HOW TO GET TO MANILA
International flights to Manila are available from different key cities around the globe.
HOW TO GET AROUND
Public utility vehicles such as buses, jeepneys, tricycles and cabs are available for use.
Are you having problems trying to play at private golf courses in the Philippines? By being a GolfPH Privilege Member, you'll not only gain playing access at our affiliate private courses. You'll also be granted other perks such as discounts and booking services. Plus, you'll also get the opportunity to network and compete with fellow elite golfers at our members-only tournaments and events. To learn more about the different benefits of this exclusive community, please click here.