Cawayanon, Manolo Fortich, Bukidnon
[PRIVATE GOLF COURSE]
H=18 P=72
Del Monte Golf Course Description
Del Monte Golf Course and Country Club was built in 1928 located within the enormous Del Monte Plantation of Manolo Fortich, Bukidnon. The first 9 holes of the course were built surprisingly by Professional Basketball Player Peter Crawford, while it's last 9 holes was built by the country's legendary golfer, Celestino Tugot. Upon its completion, it became the areas only and first full golf course.
The 18-hole golf course is an all-weather game that is perfect to play at any time of the day and any day of the year. It is a medium size course, where players can view its magnificent landscape as they play golf. Its beautiful setting with man-made lakes, pine trees, and greens are recognized features of the course. However, these features are also considered as hazards to players. Most of these are sand traps and many reside around holes no. 7 and no.16. These holes are respectively known as the Waterloo and Warne Hole.
Del Monte Golf Club has other things to offer aside from its two challenging 9 hole-courses. You can choose to play a 9 hole or an 18 hole round. Its clubhouse has practice facilities where players can practice swinging or putting before the game. It also has pro shop, where it provides golf equipment for players. The clubhouse also offers services from restaurants, bars, massage rooms, and other amenities that help players relax after the game.
How To Play
Del Monte Golf Club is a Private Golf Club and guests must be accompanied by a member in order to play. You may also book through GolfPH to have playing access to this golf course.
Tip for Tourists: You can still play at Del Monte Golf Club by booking directly with GolfPH. Fill out the form to your right and get your free quote today.
[thrive_2step id='16632′]

[/thrive_2step]
Facilities
Del Monte Golf Course Location, Map and Address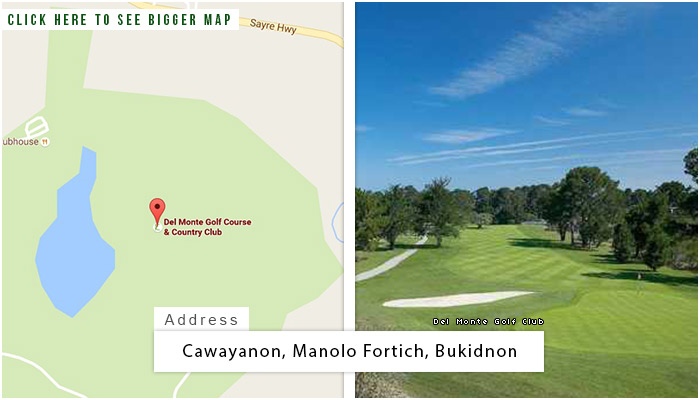 Photos of Del Monte Golf Course