National Road, Lipa City, Batangas
[PUBLIC GOLF COURSE]
H=18 P=72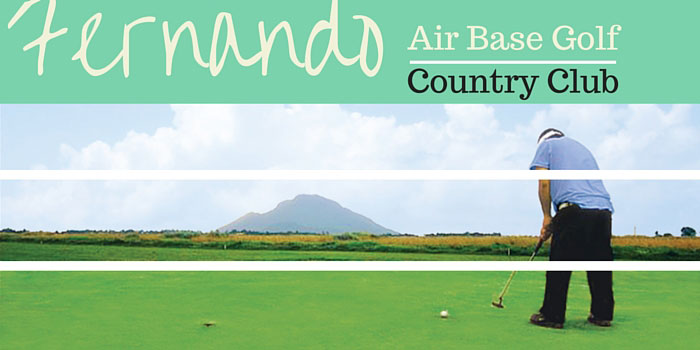 Fernando Airbase Golf Course Description
Located in the Philippine Air Force's pilot training and education facilities in Lipa City, Batangas, is the Fernando Airbase Golf Club. The golf club named after the base itself is known for its long and wide 18-hole golf course. However, the players should not be fooled with the openness of the course. There are some holes that are open, but wind can affect and add challenge to the golfer's game. The golf course was not part of the original plan of the airbase. It is evident on having three fairways on the parade grounds. The designer of the course made a good job maximizing the area inside the base to insert the course.
Fernando Airbase Golf and Country Club's golf course has a vast greens, but the most interesting feature of the club is the monstrous 705 yard Par 6 of the hole number 18. The course is divided into two nine hole golf courses. The front nine is often described as a "links course". The back nine is described with more trees on the sides of the fairways just like most golf courses.
Related Other Golf Course Within Batangas KC Hillcrest Hotel and Golf Club
The golf club have facilities to provide further playing needs. These facilities includes; driving range, practice putting green, and tee houses. The clubhouse has a pro shop and function rooms. There are several accommodations available around Batangas. These accommodations are; City Sleep Inn, El Grande Residencia Hotel & Resort, Hotel La Corona de Lipa, The Farm at San Benito, and Valentino Resort & Spa in Lipa City. Lima Park Hotel, Microtel Inns & Suites, and Sto. Tomas Suites in Sto. Tomas Batangas.
The airbase is about 89 kilometers or one hour and 20 minutes away from south of Manila near Lipa City. To get there, from Manila, take the South Luzon Expressway to Batangas Exit and continue via the STAR Toll until the last exit to Batangas City. Private transportation or car rental is recommended.
How to Play at Fernando Airbase Golf Club
Fernando Airbase Golf and Country Club is a Public Golf Club and guests must be accompanied by a member in order to play. You may also book through GolfPH to have playing access to this golf course.
Related: See the complete list of Batangas Golf Courses
Tip for Tourists: You can still play at Fernando Airbase Golf and Country Club by booking directly with GolfPH. Fill out the form to your right and get your free quote today.
[thrive_2step id='16632′]

[/thrive_2step]
Facilities
The club provides practice facilities including a putting green and a driving range where you can practice your swing before starting your game. It also has a pro shop for golfing equipments and offers several function rooms that you can use upon reservation.
Other Fernando Airbase Golf Batangas resources:
Fernando Airbase Golf Facebook
Fernando Airbase Golf Course Location, Map and Address
Photos of Fernando Airbase Golf Course