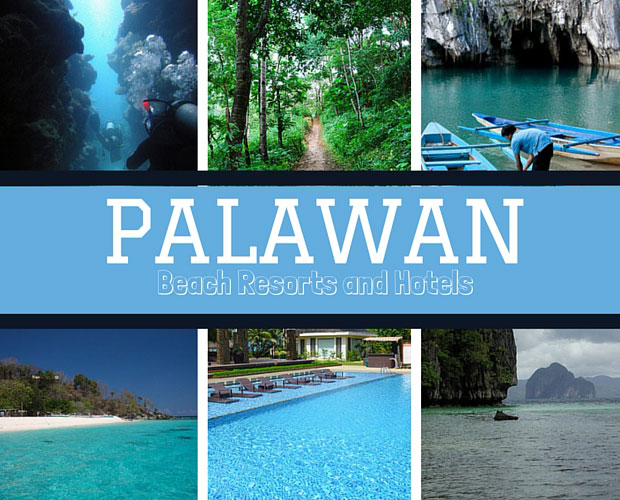 PRISTINE PALAWAN ISLAND BEACHES
Golfing in Palawan might not be the most ideal things to do, with only 1 golf course here which is the Western Command Golf Course. Instead, most people come out to Palawan to relax, unwind and be a part of nature.
Widely known as "The Last Frontier," the archipelago of Palawan is a magnificent world that should be discovered slowly, feet wriggled into its pristine white sands, and its waters swam in with indulgence.
Palawan is the Country's largest province, spanning 1.5 million hectares. Bounded by irregular coastlines of fine white sand, its interior thrives with lush virgin forests and incredible wildlife.
Palawan consists of about 1,769 islands: the Calamian Island group to the North, the Cuyo islands group to the northwest, and the Balabac-Bugsak group to the southwest. Scuba diving is spectacular because of its crystal clear blue-green waters teeming with marine life. Fall in love with the majestic hawksbill and green sea turtles, the delightful dugong or sea cows, and plenty of species of dolphins, whales, sharks and manta rays. Above water, there are many species unique to the place, like Palawan bear cat, Palawan mongoose, Palawan peacock pheasant, fish-eating Palawan eagle, king cobra, and many rare species of parrots and butterflies. Other delightful creature like the Calamian deer r the large Monitor liards also thrive here.
Lustrous pearls of every shape and size are plentiful in Palawan. And all over El Nido, Coron and Pabellones Island are swallows' nests, costing up to US$3,000/kg,which are harvested as the main ingredient of the expensive Chinese delicacy Bird's nest soup. Go ahead and book your trip early and take advantage of discount hotel coupons and special offers.
PALAWAN TOURIST ATTRACTIONS
There are many interesting things to do in Palawan Island. Below are some of the things that you can discover in the island. Also, you can experience El Nido nightlife.
Tubbbataha Reef
This is the Philippines' first national marine park, and now a World Heritage Site protected by the UNESCO. The abundance of marine flora and fauna in this 33,200-hectare reef rivals that of most sites because of the wealth of unique species found only here. Mega fauna like Whales, whale, sharks, hammerhead sharks and manta rays can be seen during its peak seasons (April-June). Feast your eyes on the majestic Hawsbill and graceful Green Sea Turtles. You will need a live-in boat to explore the wonders of thus marine world. Located in the Sulu Sea, cradled between the Palawan and visayas islands. It takes 12 hours of calm sailing to reach Tubbataha from Palawan. But you will need an entry permit issued by the Tubbataha Management Office before you can enter the park.
Puerto Princesa Subterranean National River Park (St. Paul Underground River)
This is another of Palawan's World Heritage Sites. It is the world's longest underground river, located underneath St. Paul Mountain. A Stalagmite formation of a lion seems to guard the place. Visitors can travel underneath by means of a baca and marvel at the features above them on the mountain's roof above them.
Honda Bay
Honda Bay is a host of beautiful islands like snake island (named because of the winding strip of sandbar), starfish island and Pandan Island.
Ulugan Bay
Go on a sightseeing spree: get to see mangrove farms at Bahile River and spectacular island with towering limestone cliff; travel by means of paraw (Filipino boat) and see the Kaluyo Falls; snorkel or dive to view the bay's magnificent marine creatures; or go spelunking inside Ugong Rock, Which is dotted with dozens of amazing caves.
Ursula Island
A bird sanctuary
Lake Kayangan
It is said to be the cleanest lake in the Philippines.
Tigman
Aborlan's famous beach with several resorts.
Malun-Ao Island
Mangrove forest and fish sanctuaries can be found here.
Sombrero Island
There's a fishing village here where the fresh catch lands straight on your grilling plate
Mangit Cave
It has spectacular formations around its interior.
Tabuan (market day)
People from Aborlan do their market day on Sundays when vast produce like bamboo, rattan and batad handicrafts are up for sale.
Cabigaan
The indigenous people of Tagbanua reside here. In December, they have a thanksgiving ritual during the full moon, with the runsay (healing ritual) coinciding on the same day.
Busuanga Island
White beaches and clear blue skies.
Calauit Island
Here is a sanctuary for African wildlife like giraffes and zebras; visitors will ride a well-protected jeepney, which meanders through the park.
Coron Island
Mangroves and beautiful reefs are home to spectacular varieties of marine flora and fauna; view towering limestone cliffs and hidden lagoons.
Culion Island
The island has great attractions like rollicking mountains and hills, mangrove forests, and bays where dugongs (sea cows) munch sea grass all day.
Barcuit Bay
Found in El Nido, it has a collection of 45 islands each with its own secret lagoons and beaches, virgin forest, limestone cliff and caves.
Bulalacao Falls
Visitors will get to hike through rice paddies and dense forestation along mountain slopes to get to the falls, located in Barangay Pasadena. Get a professional tour guide who will guide you through the place. Visitors are usually not allowed here during the rainy seasons in August to October.
Calaan Beach
From the cottages situated here, get a full view of the most divine sunsets you've ever seen.
Cadlao Island
Cadlao Island is in Bacuit Bay. White sand beaches, lagoons, dense forest and mangroves abound here. Trekkers will enjoy nature trails throughout the island.
lagen Island
This place Is for those of the more expensive taste. Its resort offers luxurious facilities and services. Great snorkeling and kayaking.
Malapacao Island
There's a secret lagoon here. To reach this beautiful and exotic place, moor your boat somewhere nearby, then swim through the gap between rocks.
Paglubagan or Shimizu Island
Just a few feet from shore are coral beds and varieties of marine life just waiting to be seen. Snorkeling is spectacular here.
Seven Commandos and Ipil Point Beaches
Ideal for water sports lovers.
Tapiutan Island
Great fine beach ideal for snorkelers. Through archways and fissures, swim with the great sea turtles, which are frequently seen gracefully swimming by.
Rasa Island
If you like cockatoos, this is the [place for you, where hundreds of the yellow-crowned birds fly ad perch. Other varities of birds are the Black-Naped Oriole, the Kilit-kilit or blue-headed racket tail and the white vintage shama.
Arena Island
Crystal clear water make for great snorkeling ad diving.
Tabon Cave
It is also known as the "Cradle of the Philippine Civilization" because of the discovery of the Tabon Man (Homo Sapiens species 22,000-24,000 years old) in limestone cliff clad Lipuun Point or Tabon Cave complex. Around here are several other island to choose from which are beautifully isolated.
Tumarbong Falls
Go through a forest trail that will lead you to the Tumarbong River. Following the river, you will be led to this awe-inspiring falls, which is the habitat for a variety of birds, and other flora and fauna.
Little Baguio Waterfall
Because of its cool atmosphere and inviting waters, this is a good place to take a dip and wash off the day's worries.
New Agutaya Beach
The longest beach shore in the Philippines at 14 kilometers.
Lake Danao
A paradise-like group of islands with dense forst around a lake.
Malampaya Sound
It is part of the sea where a heavy concentrated of natural gas was discovered. Home to two species of dolphins: the Bottle nose and the Irrawady dolphins, as well as thousands of other marine species.
Pabellones Island
A group of three island with awesome limestone cliffs, on the sides of which are the main ingredient in the Chinese delicacy bird's nest soup.
PALAWAN RESORT HOTELS AND ACCOMODATIONS
There are various hotels ad resorts with amenities and facilities. There are pension houses and tourist Inn with rates ranging from P500 to P1,000 a night, while superior hotels charge from P1,500 to P2,100 per night. Check to see how much.
PALAWAN FOOD AND DINING
Several restaurants serve a variety of dishes abound In the place.
HOW TO GET TO PALAWAN
Most airlines fly to selected points in Palawan like Puerto Princesa, Busuanga and Coron direct from Manila.
Shipping lines also ply the waters from Manila to some points in Palawan.
Within Palawan,there are jeepneys to take you throughout the province, but time is flexible in these parts. Check with the resorts, which usually provide transportation like boats and jeepneys to and from your point of arrival in between islands.
WHERE TO PLAY GOLF IN PALAWAN
If you want to play golf in Palawan, here's the link to the Western Command Golf Club.
Are you having problems trying to play at private golf courses in the Philippines? By being a GolfPH Privilege Member, you'll not only gain playing access at our affiliate private courses. You'll also be granted other perks such as discounts and booking services. Plus, you'll also get the opportunity to network and compete with fellow elite golfers at our members-only tournaments and events. To learn more about the different benefits of this exclusive community, please click here.