Coral na Bato, San Rafael, Bulacan
[PRIVATE GOLF COURSE]
H=18
Maintenance Day – Monday
Royal Northwoods Golf Description
Bulacan's Jewel of the North known as Royal Northwoods Golf & Country Club is a Northwoods Realty and Development Corporation project and establishment. Construction of the course started in 1999 and the first 9 holes were completed that year. The course officially completed all 18 holes in 2001.
Its 18-hole golf course was designed by an Australian professional golfer named Graham Marsh and by Graham Marsh Golf Design PTY Ltd. Its fairways are well-maintained with Bermuda grasses and rolling terrains. Plus, it also has deep bunkers that made it an exciting course to members.
Royal Northwoods Golf and Country Club has also well-maintained facilities to offer to its members. It has training facilities to practice each member's swing or putt before the game, and has other sports activities for them to play aside from golf. Not only that, its clubhouse also offers services from restaurants, tee houses, and hotel accommodations to its members.
Related Other Golf Course Within Bulacan Cattle Creek Golf & Country Club
Guests are also allowed to play golf at the course and use the facilities of the clubhouse from 6:00 am to 7:00 pm. If they are traveling from Manila and wanted to go to Royal Northwoods Golf and Country Club, they can experience a 1hr. and 46 min. drive by bus or car.
How To Play
Royal Northwoods Golf and Country Club is a Private Golf Club and guests must be accompanied by a member in order to play. You may also book through GolfPH to have playing access to this golf course.

Tip for Tourists: You can still play at Royal Northwoods Golf and Country Club by booking directly with GolfPH. Fill out the form to your right and get your free quote today.
[thrive_2step id='16632′]

[/thrive_2step]
Facilities
Related: See the complete list of Bulacan Golf Courses
Other Royal Northwoods Bulacan resources:
Royal Northwoods Website
Royal Northwoods Golf Facebook Page
Royal Northwoods Golf Course Location, Map and Address
Royal Northwoods Golf Course Review:
A jewel in the rough. That perhaps is the best way to describe the Royal Northwoods Golf Club. Located in the rice field confines in the quiet town of San Rafael, Bulacan, this golf course has more than meets the eye.
Click here for full review
As a project conceptualized and built by the Northwoods Realty and Development Corporation, operation of the golf course first started with only nine holes last 1999. To the acclaim of many, the course then expanded into an 18 hole challenge by the year 2001. Since then, several notable tournaments have been held in the course, with ICTI tourneys as occasional and well-attended highlights.
Being a so-called "jewel in the rough", it'll take literal perseverance to get to this place. As compared to southern metro golf courses (wherein most player tend to point their clubs toward to, and perhaps because where most investors/players are based at), the Royal Northwoods has to make with its location. However, according to its Operation Manager, Ireneo Marcelo, recent road improvements (with the new Mindanao exit in the North Expressway) and the addition of a new hotel in the club's vicinity has made visiting this place a truly memorable moment. Also, the greens speak for themselves – natural beauty and challenging plays are expected in this course, making this place a must visit for golfers to test their mettle.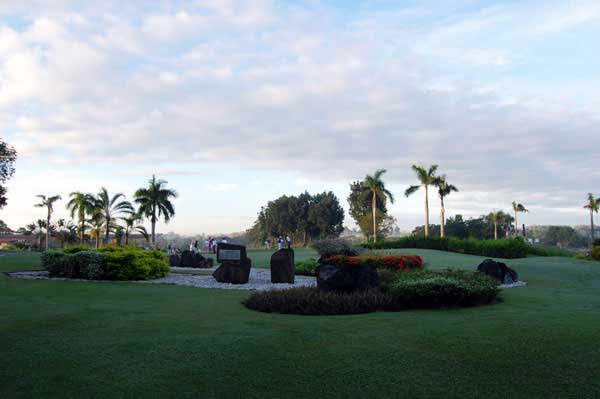 Even though the Royal Northwoods golf course is considered relatively short (6,989 yards) as compared to its contemporary courses in the country, overlooking its main features is definitely a no-no. The bunkers are not only large and deep, but they are also placed in such a way that can intimidate even the most professional golfers. Aside from the that, the greens can also be difficult to read, especially with all their subtle humps and spaces. Be sure to prepare yourself well when you take on this course as it is a mix of pure pleasure and pain.
Here are some of the holes that you should look forward to when you play at the Royal Northwoods golf course:
Hole 2
The course welcomes you with the most difficult hole– the 417- yard par 4 second hole. With only 1 handicap, this hole needs a perfect drive if you want to overcome it and be on your way to a great scoring round. A water hazard awaits if you hit too far left; while giant bamboos block the the view of the green if you hit too far to the right. And with a stream running across the fairway, you're definitely in for a challenging treat.
Hole 9
You'll think the previous holes a breather once you get to the ninth. This unforgiving 427-yard par must be played a little over thirty yards uphill and overcome the strong winds.
Hole 13
Be sure not to miss the right shots when you play the thirteenth hole. This 520-yard par 5 hole features an enormous acacia tree that can be your biggest enemy if you are not able to drive perfectly. A small stream running across the fairway almost in front of the green, is unseen from the fairway, also adding to the excitement in playing this hole.
Hole 14
With a stream crossing the fairway, from the tees up to the front of the green, fourteen is indeed a beautiful hole- perhaps the most beautiful one in the entire course. You get to access the green with the old-fashioned bridges made from old railroad ties. However, see to it that you make a good tee shot if you want to avoid the large bamboos bordering the stream.
Hole 18
Considered as the designer's signature hole, eighteen is a short uphill, par 4 hole that lets you end the round in the most exciting and fashionable way. It has its unique features, mainly the banana trees growing in one of the corners of the huge bunker placed in the dogleg. The two-tiered green can be a little tricky so be sure to read it well to have a good score.
Amenities
Visitors not only get one of the best golfing experiences in the country at the Royal Northwoods Golf Club. The clubhouse amenities are specifically designed to provide easy-access and manageable time, just so players can get the most out of their visit. Sporting a Mediterranean look, one can easily feel in his or her most relaxed state in here.
A key highlight, just like Mr. Marcelo mentioned, is the inclusion of a hotel in the club's vicinity. The El Masfino, a first-class escape from the confines of the busy metro, provides visitors not only the best in overnight stays, but also as a venue for all sorts of activities. One can get a dip in the cool swimming pool, or enjoy a relaxing massage by the open-air spa huts by the pool side. For an even more extreme adventure, Mr. Marcelo suggested trying out the dune buggy trail – a fast-thrilling relieve from a good round of golf!
(We would like to thank Mr. Ireneo Marcelo. the club's Operations Manager for accommodating us during the interview and for providing substantial information about The Royal Northwoods Golf Club.)
Photos of Royal Northwoods Golf