Barangay Balaytigue, Nasugbu, Batangas
[PRIVATE GOLF COURSE]
Office Hrs. 9AM – 5PM
H=9, H=9, H=18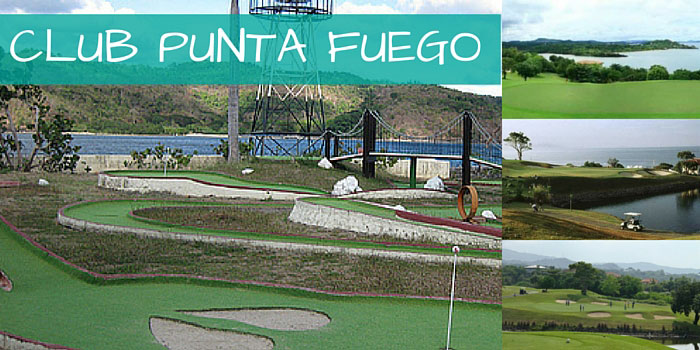 Club Punta Fuego Golf Description
Located in the first class seaside municipality of Nasugbu in Batangas, is the Club Punta Fuego. It is one of the best golf course in the Philippines. This golf course proves to be one of the best in the country. Club Punta Fuego's course is covered with Tifdwarf grass for the greens and seashore paspalum for roughs and fairways.They also make the most out of the beautiful views and natural landscapes of mountains and seas. The final hole of the course is located on a cliff overlooking the sea. The course has a rating of 58 and a slope rating of 113.
However, despite of the scenic views that the 58 par golf course offers, the club still poses challenges to the golfers. In its short distance of 3,542 yards, the course is filled with rolling terrain and water hazards, big greens with narrow fairways, trees, and sand traps. The 18 hole golf course of the Club Punta Fuego is designed by renowned golf architects Nelson and Haworth.
Related Other Golf Course Within Batangas KC Hillcrest Golf & Resort (formerly Evercrest)
Club Punta Fuego is open to members and endorsed guests. There are no green fees for the members. The club have several facilities for the playing and comfort needs of the players. These facilities includes; practice putting green, tee houses on the fairways, clubhouse, pro shop, restaurant, bar, showers and lockers for male and female, and a function room that can be used for awarding ceremonies. For accommodations, the club has facilities for overnight accommodations. Club Punta Fuego is two and half hours drive away from Manila and 20 kilometers from the Municipality of Nasugbu. To get there, private transportation, hotel car or car rentals is recommended.
How To Play
Club Punta Fuego in Batangas is a Private Golf Club and guests must be accompanied by a member in order to play. You may also book through GolfPH to have playing access to this golf course.
Related: See the complete list of Batangas Golf Courses


Tip for Tourists: You can still play at Club Punta Fuego by booking directly with GolfPH. Fill out the form to your right and get your free quote today.
[thrive_2step id='16632′]

[/thrive_2step]
Facilities
Other Club Punta Fuego Batangas resources:
Club Punta Fuego Golf Website
Club Punta Fuego Facebook
Club Punta Fuego Golf Course Location, Map and Address
Photos of Club Punta Fuego