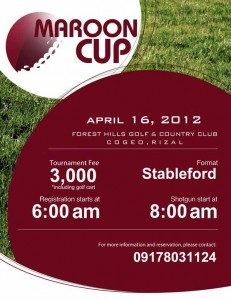 Passion. Chances. Growth. Sport.
Get set to rediscover the game of golf like you've never before. Get in the zone with the Maroon Cup, proudly presented by the UP Golf Team, Inc. and San Miguel Corporation, in partnership with Forest Hills Golf and Country Club.
Hosted by the one and only Ms. Zoe Sandejas!
Rebirth. That is the foundation of UP Golf's ongoing pursuit of its vision. Following the 2010 UP Open, this year's tournament aims to foster both friendly competition and a platform for learning. Meet, greet, and learn from fellow golfers, for we welcome everyone – beginner, amateur, professional, local or foreigner – as warmly as we did to the team's current Korean members. Golf is camaraderie.
Mark those calendars for Monday, April 16, 2012 at the Nicklaus Course in Forest Hills Golf and Country Club, Cogeo, Antipolo City. Tournament fee is Php. 3, 000, which covers green fee, one golf cart, lunch, raffle stub, and giveaway.
The UP Golf Team, Inc. would like to thank the following:
Loro, L Oreal, Garnier, San Benito Wellness, Belson Securities Inc., Excellent Golfing Partner, Meralco, Toyota Balintawak, On the Tee, BPI securities, KIA Congressional, 100 Plus, Summit Water, Allied Bank, Arena Sports, Boracay Island Adventure.
Its hole in one sponsors: Delta. Mizuno. Meister Asia Inc.

Want to read more? Check out the links below
Birdie Cost Salvador Crown in Cambodia classic
GolfPH Partee – A Green Carpet Affair
Pagunsan 35th in World Golf Championships