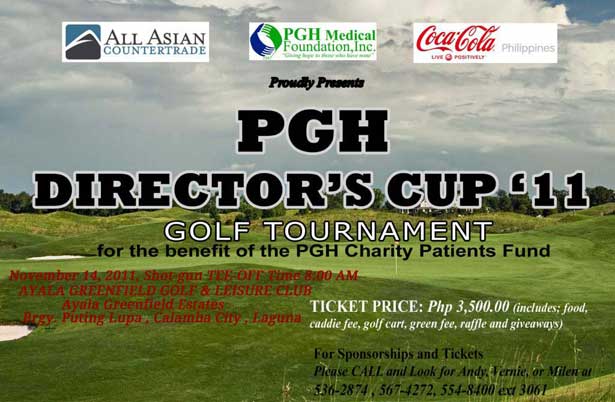 Everyone is familiar with the Philippine General Hospital (PGH). It has come to mean a place where help in times of sickness can be received, no matter in which rung of the society ladder one belongs to. The PGH is never short of generous individuals and organizations that help. However, the demand for hospital services is continuous and much larger than its capacity to generate the funds that will cover the needs of the people who come to it for cure and care.
The PGH Medical Foundation Inc. (PGHMFI) is the official fund raising organization of the Philippine General Hospital, dedicated solely to the generation of funds for the benefit of PGH. It was founded in the year 1997 and became operational in 2003. At present, the foundation embarks on fund raising campaigns to help support its various projects at the Philippine General Hospital, among which are: (A) Charity Patients Medical Fund, which helps indigent patients purchase their medicines, special laboratory tests and medical supplies, (B) Infrastructure renovation, (C) provision of equipment and hospital supplies and (D) support of research and training.
This year, in cooperation with Coco-Cola Philippines and All Asian Countertrade, Inc., The PGH Medical Foundation Inc. cordially invites you to its annual golf tournament entitled PGH Director's Cup '11. The said tournament will be held this coming November 14, 2011 at the Ayala Greenfield Golf and Leisure Club. Shotgun tee time is 8:00 am. Proceeds will be donated to PGH Charity Fund to accommodate the growing needs of indigent patients of PGH.
For sponsorship and tickets, call and look for Andy, Vernie or Milen at 536-2874, 567-4272, 554-8400 ext 3061. You may email them at [email protected] and [email protected].