CANLUBANG — The North Course of the Canlubang Golf and County club was the setting for the ELKs 14th Annual Presidential Cup "Charity Golf Tournament" where proceeds were for the benefit of the different ELKs charity projects.
81 players consisting of the prestigious ELKs membership and their invited guests, took time out from their busy schedules to participate and raise the much needed funds for their charity. According to Jeffrey Greene, Chairman of the ELKs Golf Committee, the attendance to the event is getting better and better every year and were able to form for close to 20 competitive flights.
Apart from being able to compete for number one at one of the most competitive courses in the Philippines, individual efforts were also recognized through fun holes that were at surprising holes in the championship layout. The ELKs organizers took everything into consideration as they even set up shuttle buses that would take players to and from the venue. A welcome surprise was the participation of top celebrity model Derrick Ramsey Jr., who was part of the team that came in second place.
To allow for low scores, the tournament adopted a Texas scramble format and although there were some top performances, the group of Steven Borill, Timothy Gilbert, Stuart Cations and Gordon McGin emerged as the overall champions. They were followed closely by the group of Derrick Ramsey Sr, Derrick Ramsey Jr, Patrick O'Brien, and Patrick Hange. Coming in at third place was the group of Roel Hernandez, Eden Hernandez, Ryan Lorenzo, and John Barker.
Apart from the competitive golf, the real meaning of the day was for fun and camaraderie among the Manila ELKS Lodge members and their esteemed guests and raising funds as well. The Manila Elks Lodge #761 is a unique branch club of the Benevolent and Protective Order of Elks—BPOE, an American fraternal order.
It is one of only two Elks Club established outside of the current United States territory, the other being in Panama near the former American territory of the Panama Canal Zone. The Mission of the Manila ELKs Lodge is to inculcate the principles of charity, justice, brotherly love, and fidelity; to recognize the belief of God; and serve the people and communities through benevolent programs, demonstrating that Elks Care and Elks Share.
The fun day was concluded at the Elks Manila Lodge in Makati with a sumptuous dinner feast, awarding of trophies and distribution of amazing raffle prizes where all participants were able to bring home a prize — nobody went home empty handed!
The sponsors of the 14th ELKS Presidential Cup "Charity Golf Tournament" are : Blue Cross, Santa Fe, GolfPH, MGP, SAAB, BAS, Philippine Retirement Authority, Pan-Asian Ventures, Perskindol, Marsman Drysdale, Fairmont Hotel, New World Hotel, Aura Hotels & Resorts, Imaginet, Primea.
---
Just for your reference, here are the original details of the event..
The Manila ELK's 14th Annual Presidential Cup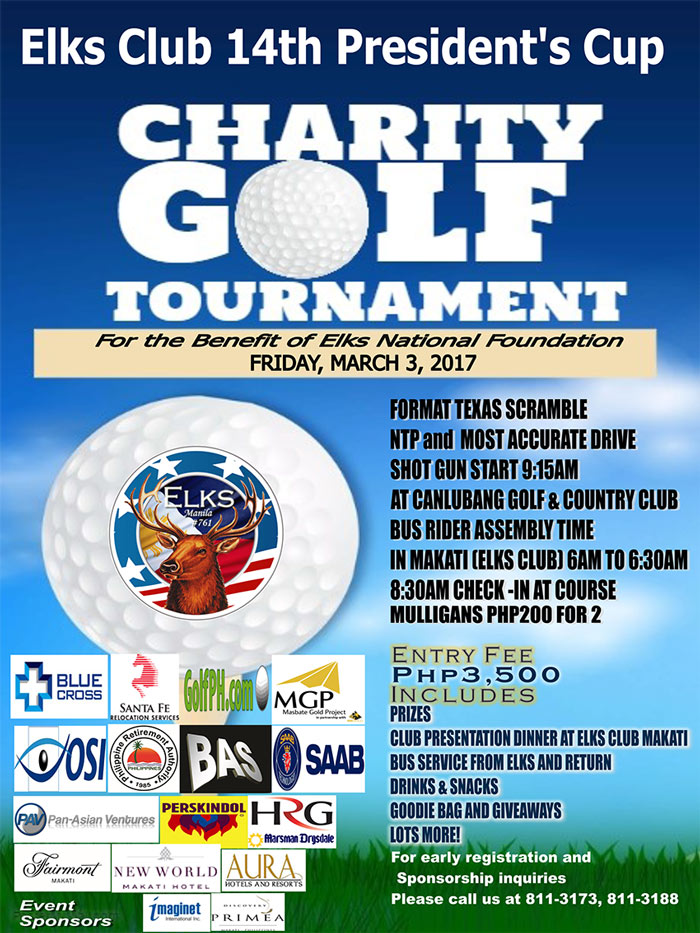 Want to play golf, meet new friends and help raise money all at once?
Come and Join the 14th Annual Manila Elks Presidents Golf Tournament.
The Manila Elks Club is the oldest and only American Club in Manila. In celebration of their 61st anniversary, they have put together this tournament to help fundraise and provide awareness for the Elks National Foundation.
The Charity Golf Tournament will take place on Friday, March 3, 2017 at the Canlubang Golf & Country Club. Registration will start at the golf clubhouse at 8:30 AM. The tournament will be a Shotgun start and will begin strictly at 9:15 AM sharp. The format will also be Texas Scramble which makes things more fun and engaging.
Here are the Additional Details:
Date: Friday, March 3rd 2017
Location: Canlubang Golf and Country Club
Time: Free Bus Ride to Course from Makati – 6:00 AM
Registration at Course – 8:30 AM
Shotgun Tee Off – 9:15 AM
Dinner & Awarding – 5:30PM
Price: P3,500 inclusive of Tournament Entry, Green Fees, Raffle Prizes, Goodie Bag Giveaways, Drinks, Snacks and Buffet Dinner
RSVP: For early registration and sponsorship details, please call 811-3173 or 811-3188
Wait, There's More…
Bad with directions or simply just want to take a break from driving? The Manila Elks Club will be renting a  shuttle Bus ride coming from Makati to make your trip even more relaxing. Sit back, mingle, meet new friends and drink a beer while the FREE Shuttle Bus takes you to the course and back to the Elks Club Awards Ceremony in Makati after the tournament.
What's Stopping You Now?
Don't miss out on this event that will be full of food, prizes, and fun! Feel free to join by yourself, or as a group of 4. Register at 811-3173 or 811-3188.
Ticket's are limited to availability. We hope to see you there!