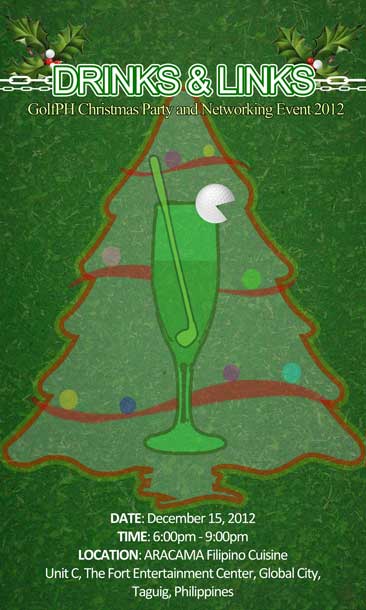 2012 has been an exciting and memorable year for GolfPH and what better way to end this year than to do it with a blast! That's why we would like to invite you to attend our annual GolfPH Christmas Party and Networking Event to be held on Saturday, December 15 at 6:00pm at Aracama in the Fort.
There are three great reasons why you should come:
One, you'll get to meet and connect with new people. We believe that networking is not just about getting business or closing deals. It is more than an act of exchanging business cards and socializing. More importantly, it is about establishing connections with people who have the same passion for golf as we have and strengthening our relationships with them.
Two, this is your opportunity to experience what it really feels like to be part of the GolfPH Community. During the event, you'll get to fully understand the perks and privileges of being a loyal GolfPH member as well as what's in store for enthusiastic golfers like you for the next year to come. We will be launching new programs, an improved system for tee-time reservations as well as updates on various golfing events you surely wouldn't want to miss.
Three, celebrate Christmas the unique Filipino way. Have an evening full of fun as you enjoy the exquisite taste of food and wine exclusively served at the Aracama Filipino Cuisine.
This event is our way to show our gratitude for your continued support and patronage to our services! Bring your friends along and have a sumptuous feast while you meet and mingle with fellow golfers!
Entrance fee to DRINKS & LINKS is P700.00. GolPH members get a special price of just P300.00!
Please R.S.V.P. by sending us an email at [email protected] or call us at 0906-510-4758/0923-4228070.
Want to read more? Check out the links below
Golf is For Women Too: Four Things to Do to Love Golf
Golf is a Mind Game – What You Think Makes a Difference
A List of Golf Tournaments for December 2012