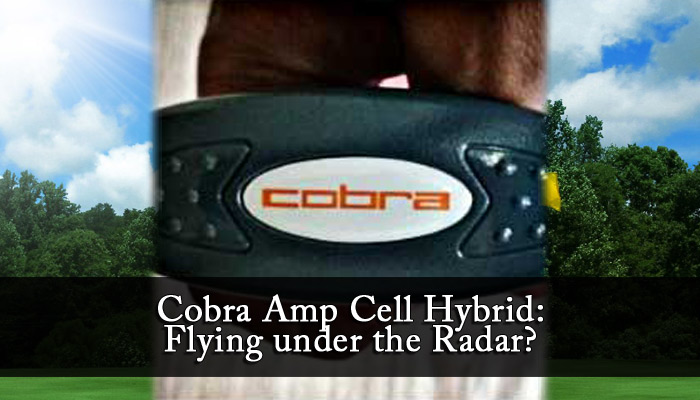 Cobra Amp Cell Hybrid Review:
It had been raining hard since Typhoon Usagi was still making its way to Hong Kong by way of the Philippines. Things on the course were as wet as they could be and the fact that I had new clubs in the bag only compounded matters. The 7th hole at Langer, which is one of the 2 holes on the Riviera course I detest, is a 400 yard par 4 with a fairway sloping wickedly to the right and trees along the left side of the tee box which can catch a rising ball. I managed to avoid the trees with my tee shot but was left with 180-190 yards to the pin which was tucked just behind the front right bunker.
Since I don't have a 5 iron anymore, I whipped out the newest addition to my stable, (I really had to think hard before putting this sentence in my review lest it be misconstrued) my 5 hybrid. It's actually a 4-5 hybrid. It's a new club and I had just taken it out of the wrapping in the morning of my round. The loft was set to 5 (I checked) and so without further ado, I swung away. I caught the ball clean but there was no sweet 'click', just a muted thud and the ball soared left before deciding to take a slight curve right, bounced once on the fringe and rolled to a stop about 9 feet away from the cup. My friend just looked at me and said, "Cobra huh!!". Oh yeah, a Cobra alright!
Truth be told, I only bought the Cobra hybrid after reading about it on Golf.com and deciding that it was cheap enough to warrant a purchase. I did not want to traverse the length of the Philippines to look for one so I logged on to eBay and promptly got one for a knock down price of $89 including shipping! Like I had mentioned, I had only opened the package on the morning of my round and it's a decent enough wrapping with Cobra logos adorning the package. What makes the new Cobra AMP Cell line so great is the "My Fly" hosel technology which allows you to adjust the loft of the club without having a major impact on face angle because of the "Smart Pad" sole design. AMP CELL and E9 Face Technology™ free up discretionary weight for a 12% larger effective face which makes for faster ball speeds even on mishits.
Now that the customary manufacturer quotes are out of the way, let's see what the club looks like. The club comes in 4 colours, Red, Blue, Orange and Silver. I purchased the red because I thought the colour kind of pops out. It's not a loud colour by any means and the black pad at the back of the club-head actually adds to its appeal. The club also has a patented Dual roll technology which is supposed to add roll to your ball. Good hits are greeted with a muffled thud but the ball absolutely rockets off the face. This thing is hot! The only complain I have is that there may not be a lot of feedback on poorly hit shots, but if it goes 10 yards less and stays on the short grass, who cares.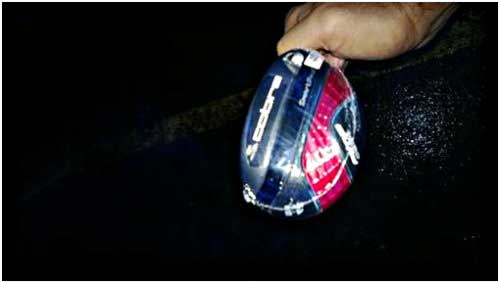 Gloomy picture at 5 AM with the wrapping still on.
Picture at 2 PM after a wet round.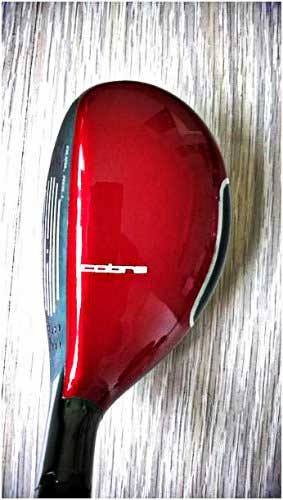 At address.

Dual Roll Technology.
These are the various hybrid options available in their latest iteration of the Amp Cell hybrids:

The accompanying tool makes it easy to screw out the shaft and adjust it to whatever loft you desire. I had mine set to 5 which is around 25 degrees in loft but after coming home I decided to test it out and moved it to a 5 Draw setting which is ideally 24 degrees with a draw. The 4-5 hybrid as you can see in the table above can go between 6 different settings from 22 to 25 degrees of loft. I suppose most of us will have yardages assigned to our clubs and wont tinker much but the option is available nonetheless. I did not get to hit one with the lowest loft so cannot really comment on whether there is a noticeable distance increase. I do suppose that 10 yards gain will be had with the lower loft setting as opposed to the highest one.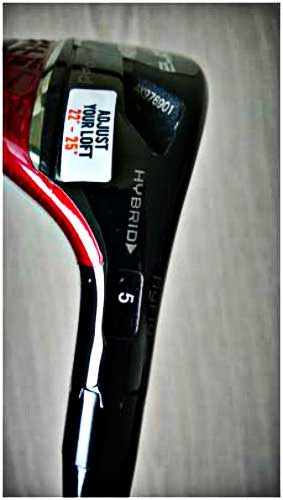 The small window on the hosel showing the loft.

Different loft settings offered.
The Tinkerman's Tool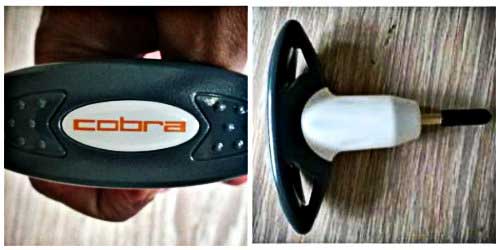 The club also comes with a headcover which I think is great. It has 2 slots on the sides to allow air flow. If your club is wet after a round in the rain, there is a certain dampness which will only go when it is aired out. The slots on the cover allow air to pass through and eliminate the damp smell our bags accumulate if one gets caught in the rain. In the Philippines, this is a godsend and I got to test this first hand in the past 2 days and can safely say that the cover flat-out works!

The club also comes with an instruction manual which details how to utilize the MyFly technology to adjust the loft of the club. It's a standard manual in multiple languages and doubles up as a standard for all Cobra Amp Cell drivers, woods and hybrids. Nothing you would not expect but nothing you would miss if not present.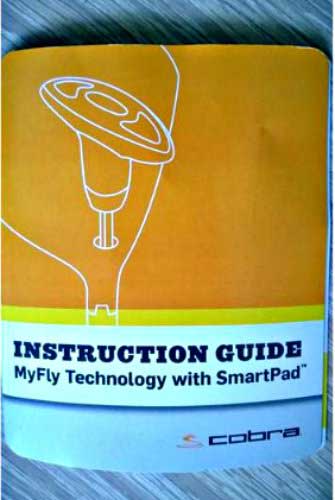 The grip of the club is a Lamkin REL 3Gen 360 grip which is pretty soft and grippy but you might want to get it adjusted to suit your hand size. If you do order one from the website you do have an option to get it adjusted to your hand size but mine was ordered off eBay so I got lucky when it turned out to be an exact fit.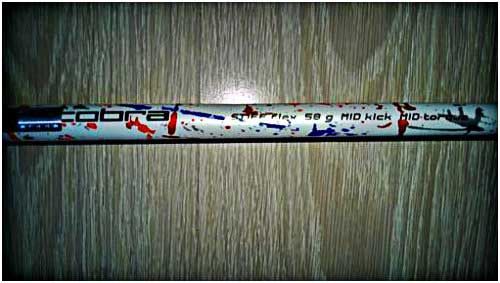 Cobra Stock Shaft
The Cobra comes with a stock shaft and I suppose this is one area where people might consider a change. It shows the company logo on the shaft and other specs. It weighs only 58 grams in 'Stiff' and I suppose that might be too light for some. Here is my take on it. If you have a smooth, easy swing, you are more likely to hit this well but if you have a violent transition and a fast swing you may find yourself having to adjust. I tried my first couple of shots with this club and took it nice and easy and was well rewarded. I kicked it up a notch for the next few shots and found out that the dispersion was not so tight (but not bad as well). If you prefer a heavier shaft on your hybrids and woods then make a change, otherwise the stock shaft is not a bad option. This club begs to go straight.
Mishits do not result in big distance losses and I nary hit a slice. A couple of fades yes but nothing worse than light rough. Talking about rough, this club eats rough for breakfast. Light rough, heavy rough, this thing will power through all of it with ease. I have not hit one from the bunker so cannot comment on its performance but I think due to the rounded sole it may dig a little bit. This comment may however be subject to some prejudice if readers have experienced good performance from the sand. Its performance off the tee is amazing. Tee shots held their line and flew straight and high. The true loft on this baby may be a bit more than advertised but I am not complaining. Performance from the short grass is commendable and those looking for added height will not be disappointed. Shots result in soft, high draws and you can be sure that these clubs will get you on or around the green with minimal fuss. Launches high and lands soft. What more could a guy ask for?
Most people will ignore Cobra golf and their offerings but I am here to tell you that this will be a gross injustice to a very fine brand. This is the first time I have bought any Cobra product but it will not be the last. I have found myself staring at the Cobra Amp Cell driver and their fairways on eBay for the last 2 days in a row. An unhealthy attraction? Maybe…just don't tell the wife.
Quick look at the club:
Hits:
• Ball rockets off the face
• Multiple colour options
• Solid trajectory and distance
• Smooth swings are rewarded with predictable results
• My Fly adjustable hosel with 6 different settings.
Misses:
• Lightweight stock shaft not very consistent for faster swingers.
These other articles From Harry Syles might be helpful to you