Every year, millions are spent by the top golf brands on modern technology to improve their golf equipment and enhance one's golf game exponentially. Shoes that will have better grip, club heads that will help you connect with the ball, lighter shafts, better steel, tougher grip and balls with an interior core that will add distance to your swing. There are so many things that can contribute to getting a few extra yards out on the fairway and one of my favorite, yet overlooked piece of golf equipment is…
The tee.
Considering that we use the tee at the start of every hole, it's actually a pretty important part of your round. But the real question that everyone has is… Can it really improve your game? Can it really add extra distance off the driver?
To be honest, I don't know.
In fact, there are so many flaws in my swing that even if I were to hit several times off of each tee, I probably wouldn't get the most consistent results.
But… since we are all amateurs here, I did my best job to see what's out there in the market, took it for a spin at Camp Aguinaldo Golf Club and gave my opinions on what I liked.
Here's our criteria for choosing the top 7 golf tees:
Can it be purchased locally here in the Philippines?
Is it accessible?
Is it affordable?
How's the quality?
How's the feel?
Here's our Top 7 Golf Tees (in no particular order):
Option #1: Professional Golf Tees System 2.72
Description: Consistency is critical to your game of golf and this tee helps you ensure that. Similarly to the Pride Golf ProLength Tee that the majority of the PGA Tour players use. The  2.72 gives you the proper line measurements for the tee and ensures that you will line up your shot with the perfect height every time. This pack comes in 80 and is created from environmentally friendly wood.
Pros: Aerodynamically designed. Low resistance tips to create less friction between the tee and your ball. Also, there are tee height marks which allow you to set up to the exact height every time.
Cons: Since this is made of wood, it most likely will break more often than some of the other tees listed in this article.
Review: Like the description says, consistency is crucial and just a few millimeters in height difference can result in a much different shot result. I really like these tees because I know that even though my swing isn't consistent, my golf ball will be… and that's one less thing that I have to worry about. Overall, I would recommend this.
Cost: It's on sale right now for only P469, which is 50% off it's retail price. Coming in at just under 6PHP per tee, it's really a small price to play to add consistency to your game.
Get the Professional Golf Tees System 2.72 Here
Option #2: Professional Frictionless Golf Tees


Description: A uniquely designed head plastic tee that is available in the color wheat.
Pros: Lightweight with a 5-prong top that reduces the contact between the tee and the ball. It is made of plastic, so the tees will last longer. The tees are also pretty cheap for a plastic tee at only 6 php each.
Cons: The tee isn't that tall, so you are restricted to using it mainly for long irons or if you are very accurate with your driver. Not as strong as other plastic tees.
Review: Overall, these tee's are a great bang for the buck. My only complaint is that they're a bit shorter than I would like. I usually tee my ball a bit higher than standard, so these tees wouldn't be for me. I also had a few of these break on me, which shows that they are not as durable as some of the other plastic tees.
However, considering that the price of these tees go for around the same as the wooden ones, you won't go wrong. I would recommend this.
Cost: It's on sale right now for about 6PHP per tee at 50%, which is a great price.
Get the Professional Frictionless Golf Tees Here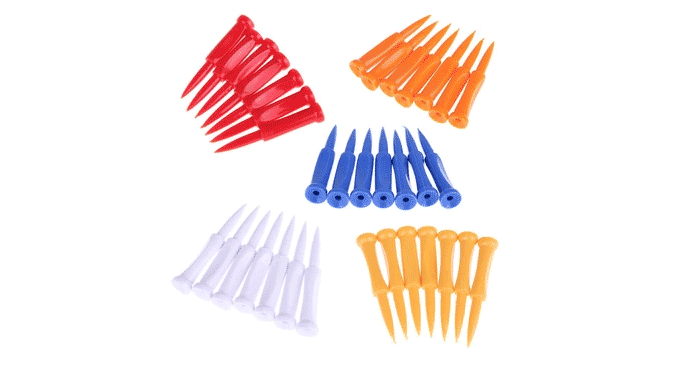 Option #3: Castle Tee Height Control Step Down Tees
Description: Improve your shot by having a consistent height of 38mm every time. These tee's are plastic, super durable and easy to carry.
Pros: Plastic is great because it probably won't break. You can use these tees for a long time. The tees have a height control with the bottom ledge which means you will be more consistent with your tee shots. Fun colors!
Cons: You will be restricted to only one height 38mm. Can only use this for driving, not irons. Will need to hold a separate tee for the iron shots.
Review: I am a little bit biased because before this review, i've actually been using this tee for the past few years. I bought a bag of these at the Navy golf club driving range several years ago and they don't ever break. I like the preset height because it matches me perfectly. Only downside is that I have to carry another shorter tee around with me for the par 3's. Overall, I would still recommend this tee.
Cost: At almost 15php per tee, it is definitely a bit more expensive than some of the others, even with the 50%. However, 15php is not that much considering this tee will probably last you a couple of rounds is you don't lose it.
Get the Castle Tee Height Control Step Down Tees Here
Option #4: Wedge Professional Tee Training System

Description: Uniquely wedge shaped plastic tees that are designed to help train the beginning golfer.
Pros: The tees are easy to set up with their triangular shaped design and long with total length of 72mm. It's also very durable and are hard to break. They come in multiple colors and won't easily tip with a nice large opening for ball placement.
Cons: Can be tougher to insert in dry tee boxes and tough grass. Ball rolls off easily if the tee is not inserted perfectly straight.
Review: These tee's are very similar to the Callaway Eterni-Tees. I like these better though. The problem with the Eterni-Tee's is that the teeth break. These tees don't have teeth, but instead a round circle to fit the ball.
So far, I have still yet to break one.  The downside is that the ball can slip out at times. Overall, I think these tees are a great alternative to you usual and I would highly recommend them.
Cost: This tee is currently 50% off at just over 12 php per tee. It's mid priced and will last you a really long time.
Get the Wedge Professional Golf Tee Here
Option #5: Anti Slice Tee Nails

Description: You probably have never seen a tee like this before. It has a Hemisphere shaped design which is supposed to help your cure your slice. It's also made out of plastic which is supposed to make it more durable.
Pros: Unique design. Made out of plastic. Is supposed to help you fix your slice off the tee.
Cons: The height of the tee is limited and a bit short, so you will need to adapt your swing if you will be using the driver. It also has an unproven unconventional design that could affect how you normally hit your shot.
Review: These tees were a bit of a disappointment. It didnt cure our slices, even when we tried to exaggerate them. These tees actually broke a lot quicker than we expected (every 1-2 holes), which makes it an expensive choice. Overall, I would not recommend these tees.
Cost: At just under 12 php per tee, this is a mid priced plastic tee at 50% off. Keep in mind that they break pretty often so overall, it makes it an expensive tee.
Option #6: Golf Brush Tee
Description: Short color tees with a brush like top. Supposed to allow optimal face impact on the club.
Pros: This is yet another very unique tee mainly used for creating a consistent lie on the grass before you tee off. It has a variety of color options and is made out of a decent quality plastic. Perfect for playing at short par 3 type of golf courses like at the Army Golf Club. It's also supposed to provide more distance by providing less friction.
Cons: Very hard to place ball on the tee. The tee is very short and may be limited for only use with long irons. It's expensive.
Review: My biggest complaint is that it takes about 3x longer to put your ball on the tee, which would also annoy your flight mates. Especially when there is wind. Overall, it was a disappointment. Would not recommend.
Cost: Almost 117PHP per tee, making it the most expensive tee on our list.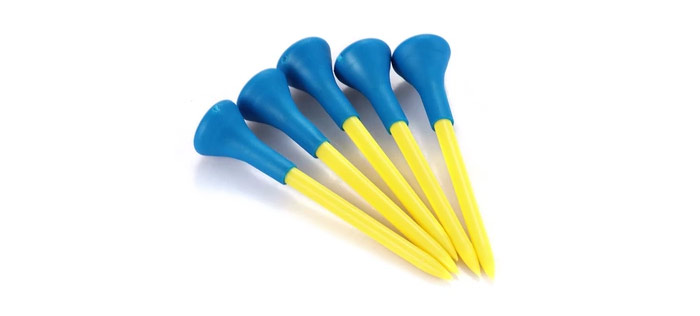 Option #7: Rubber Cover Plastic Golf Tee
Description: Traditional look and design of your typical golf tee but with a rubber head cover to provide added protection when the tee is hit. The tee is made of plastic for extra durability. It's also tall at 83 mm.
Pros: Tall height at 83mm. Very sturdy and will last you a long time. Proven technology shape and design. Bigger cup to hold your ball easier. Can be used for drives and irons.
Cons: The biggest con has got to be the price. At almost 100 pesos per tee, it makes this one of the pricier tees on our list. Also, the tee can get bent (minimal) after a few hits (6-8 drives).
Review: You can't go wrong with these tees. If you buy a bag of these (5 pieces), it'll probably last you several rounds a piece and that's no exaggeration. I love how the height is adjustable and that I only need to carry one tee in my pocket. Overall, I would recommend these tees.
Cost: These tees cost about 94 pesos a piece. For a bag of 5, that is only P464, which ain't too bad.
Get the Rubber Cover Plastic Golf Tee Here
Bonus #1: Sexy Bikini Hot Woman Golf Tees
Description:  There's nothing better than having a few laughs on the golf course.  This is a  unique tee that will surely get peoples attention.
Pros: Tall height at 80mm. Made out of plastic so it will last a few beatings. Unique design that will get you a lot of laughs. It's Fun!
Cons: Can only use it for drives, not irons. Might make you nervous because suddenly all of your friends will be paying attention to your drives.
Review: Not sure if this will get you a few extra yards but it will be a hit around the course. Do I recommend this… of course!
Cost: P406 for a 6 pack
Get the Sexy Bikini Hot Woman Golf Tee Here
Bonus #2: Nude Lady Golf Tee
Description: Even better than the last one. Imagine taking this tee out of your bag and setting it up before you drive. What would your friends say?
Pros: Fun, Unique Design. Very durable and can be smacked around a few times. Long legs can also be used as a divot tool
Cons: Everyone will want to hit off of it. Might not improve your game. Might offend the ladies in your group
Review: Overall, this is a fun tee to bust out when you are with the guys. It might not add a few yards to your swing, but it does it's part and will hold the golf ball up. Overall, I would recommend this.
Cost: P438 for a pack of 10
Get the Nude Lady Golf Tee Here
This is a great list of options that are locally sold here. Choosing the right tee is more about the feel, than the design so I recommend that you choose a few to pick up a try them out.
Got any tees that we missed?
We want to know. Share with us what you use, your favorite tees and where to get them in the comment section below.