Unlike most tournaments, the Great British Golf Tournament 2016 started off the tournament a bit different this year by beginning the tournament at 12 noon. I'm sure you know that golfing in a tournament almost always kill your whole day, so I appreciated the fact that I was still able to put in a half day at the office.
Luckily for us, 2 of our team members at GolfPH had the luxury of attending. The tournament, in partnership with Standard Chartered Bank was held at the Wack Wack Country club on Feb 26th, 2016. It was a shotgun start event and had about 121 players in attendance.
Everyone had the leisure of getting to the venue on time with no hassle or haste because of the mid day start.  We arrived there at 11am with plenty of time to get a quick snack, stretch and work on our putting.
Registration was a breeze. Each player was given BCCP (British Chamber of Commerce Philippines) caps and umbrellas to help keep cool under the sun and they sure came in handy for most of the players during the day! We were also given information about the British Chamber of Commerce Philippines. The BCCP seems like a great organization to join  and if anyone is interested, you can find out more information on the BCCP website.
After collecting their giveaways, players wasted no time and went straight to the locker room to get ready for the tournament. Kudos once again to the organizers for putting together this event that started relatively on time and ran smoothly all throughout. We take part it several tournaments every month and rarely does the registration process ever run this efficiently.
Playing became even more exciting as they got further into the game.

At the tee house, we were even given a free Krispy Kreme Donut, regardless of how bad we were playing. Who could say no to that!?
The BCCP made an excellent decision to host their tournament at the Wack Wack West course. As always, the course was in tip-top condition. The fairways were well maintained and the greens were perfectly manicured. The course had an even mix of both challenging and scoreable holes. The West course provided a fun backdrop for the event. It was also a strategic location as it was easily accessible for all players.
After the entertaining game, everyone freshened up with a shower and headed to the ceremony for even more fun. What would a tournament be without FOOD and DRINKS! The dinner was absolutely divine!
Deviled eggs and Clam Chowder Soup greeted you as appetizers. For mains, you had the option to stuff your face with Baby Back Ribs, Slow Roasted Beef Belly, and Bourbon Chicken. Asia Brewery Sponsored Brew Kettle Beer and an assortment of Dark Ales (Guiness and New Castle) were available to wash down all the food.
During the ceremony and as all the hungry players savored their dinner buffet meal, they heard a word from the BCCP chairman himself, Chris Nelson.
The winners of the respective classes in the system 36 format were also awarded at that time.
This day wouldn't have been complete without the raffle! The tournament gave away 56 minor prizes and 13 major prizes. The main prize was a getaway to the very posh Huma Island Resort and Spa in Palawan. With this prize, your entrance fee would easily be paid back ten-fold as a night in the resort can set you back $1,000 at minimum.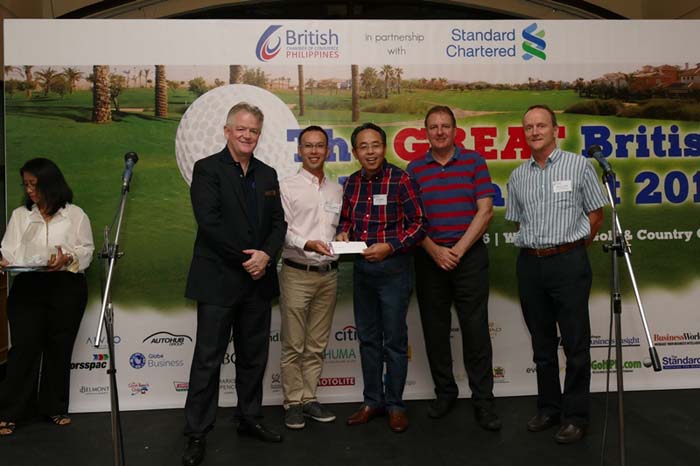 For the list of winners, please check out the list below.
Class

Place

Name

GROSS

HCP

NET

Low Gross Champion

Jeffrey Bernaldez

69

Class A

CHAMPION

Rodney Hall (4 Birdies/9 Pars)

74

6

68

RUNNER UP

Tony Kennerly (4 Birdies/ 7 Pars)

74

8

68

Class B

CHAMPION

Willie Tee Ten

96

25

71

RUNNER UP

Satoshi Yoshida

92

20

72

Class C

CHAMPION

Daniel Florentino

98

24

74

RUNNER UP

Anil Singh

101

27

74

Ladies

CHAMPION

Cora Aguinaldo

94

21

73

RUNNER UP

Elisa Thoburn

94

21

73
More than the game and even the food, what gave this day such a light and happy atmosphere was the camaraderie amongst all the golfers. From registration, to the game itself, and the dinner/awarding ceremonies, smiles were everywhere.
Whether they were from players or from the organizers, wherever you turned you were greeted with a smile. Players happily shared beers before and after the round sharing their golf stories for the day.
Overall, it was a truly GREAT event that held up to it's name. It's definitely one we will look forward to for next year again!
Last but not least. We would like to thank the sponsors for making this event possible. None of this would have been able to happen if it wasn't for you guys.