Another year, another fun-filled golf tournament in the books.
August 12 saw the 8th edition of the Annual CHARity Golf tournament tee off to a smashing success at the historic Intramuros Golf Course. Spearheaded by the indefatigable Char Venturina, the tournament was a showcase for all the players' wedge and putting games as they navigated through the short but tricky "walled" Intramuros layout.
Together with her family and close friends, Char made sure that the players wouldn't just be enjoying the golf, but also the sumptuous food and exciting prizes.
Perhaps the most amazing and heartwarming thing about this whole event is the fact that for 8 consecutive years, Char, backed by her solid supporters, has constantly worked to raise funds for the charities she supports while getting people to go out under the sun and enjoy a round of golf.
It's rare these days to have that kind of passion and dedication, but Char, as she has tirelessly shown through her CHARity Golf Tournaments, just keeps on teeing away.
Proceeds of The 8th Annual CHARity Golf Tournament are for the benefit of the following charities and foundations: St. Michael the Archangel Parish, Every Sole Counts, St. Rita Orphanage, Taguig CityJail, Virlanie Foundation, Philippine Cerebral Palsy Inc., Kythe Foundation, East Ave Medical Center, emergency relief operations, and various medical missions.
Hats off to another well-organized event!
The GolfPH team is always honored to be part of this tournament. See you guys again next year!
---
Recap from the 7th Annual CHARity Golf Tournament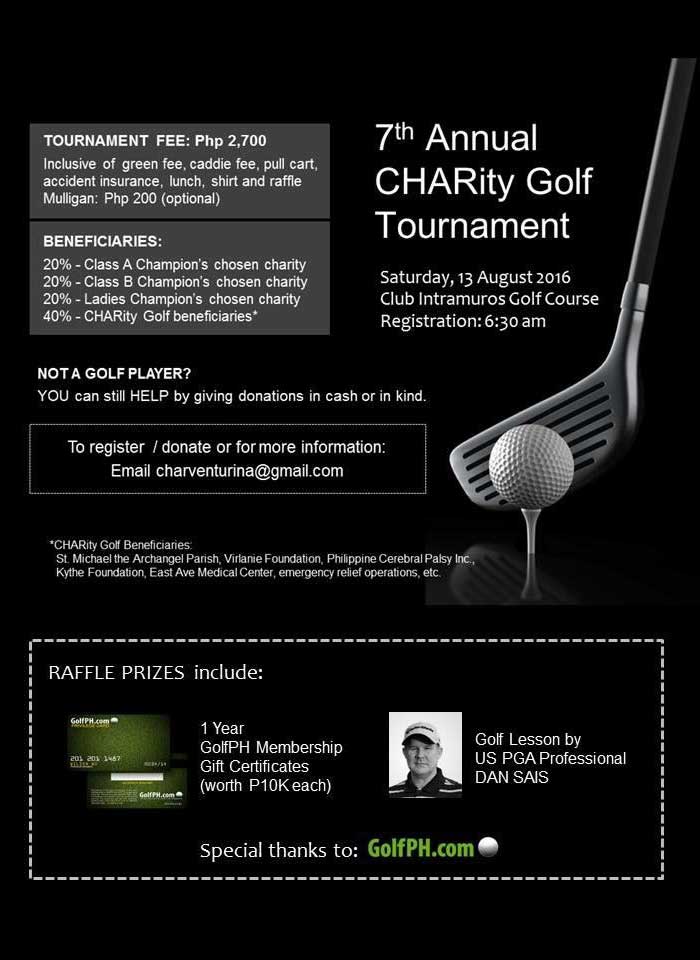 CHARity Golf Tournament is an annual game hosted and organized by Char Venturina. Venturina is a private individual who loves to help others through charity works and fundraising events. She has been into different charity works such as relief operations, back to school programs, and fundraising events like this golf tournament.
The golf tournament is now on its 7th year since 2009. For seven years, the tournament have helped and funded numerous foundations, operations, beneficiaries, and other charity works. The recent CHARity Golf Tournament have supported numerous programs. These programs include scholarships, summer camps, hospital and jail visits, and many more
Play golf while helping others who are in need, and do charity work while enjoying. Play and join the golf tournament who's goal is to help others which makes the game an exceptional event.
Event Details
Date: Saturday, October 1, 2016
Location: Club Intramuros Golf Course, Manila
Time: Registration starts at 6:30 am
Price: Php 2,700 inclusive of green fee, caddie fee, pull cart, accident insurance, lunch, shirt, and raffle. Mulligan: 200 (optional)
Beneficiaries:

20% – Class A Champion's chosen charity
20% – Class B Champion's chosen charity
20% – Ladies Champion's chosen charity
40% – CHARity Golf beneficiaries*
*St. Michael the Archanghel Parish
*Virlanie Foundation
*Philippine Cerebral Palsy Inc.
*Kythe Foundation
*East Avenue Medical Center
*Emergencey Relief Operations, and other charity works
Not a Golf player? You can still help by giving donations in cash or in kind.
Join Now!
Signup and take part in helping those in need and continue to support programs that change lives. For more information, registration details, and to donate, please contact: Char Venturina – [email protected]
We are looking forward to have you there.