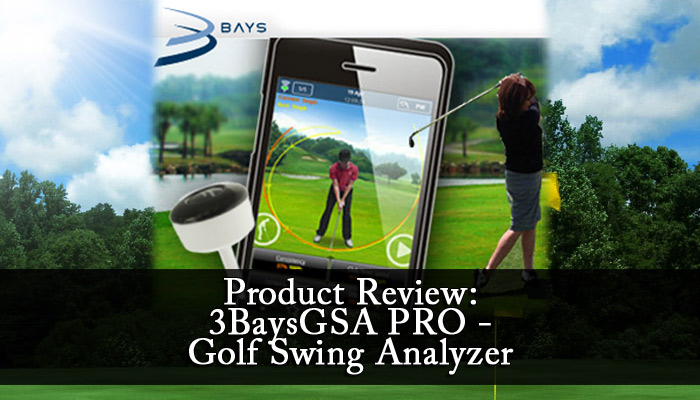 I was supposed to turn in this review a few days before I actually did. I took my own sweet time to understand why I liked this so much. I really did like this. It's like the quirky girl you meet at one of the parties and you decide that she is actually quite nice. It starts off with different expectations and then you realise (after a few hours) that both of you are actually quite compatible and looking for the same thing.
Genesis Chapter 1, verse 1:
"Thou need an iPad or an iPhone". I repeated this line around a 1,000 times, since the GSA model I had only worked with the iPhone/iPad. I did not get the Android version. A windows phone version is not even being discussed. Sorry, a Blackberry? What's that? With 90% of the Smartphone owning public toting Android or Apple phones the 3 Bays team have the spread virtually covered. For all you non-believers, who won't take my word for how cool this device is, check out YouTube for a video of Martin Chuck (Inventor of Tour Striker) who mentions that the numbers from this device are very close to numbers from trackman!)
So, what is the 3 bays GSA?
First up, the Pro version only works with our irons and woods. There is a separate Putt version that works for putters. It's a small device around 9.8 grams that sticks in to the end of your club and measure various aspects of your swing.
Feature Overview:
• Plugs in to the butt end of your grip
• Weight: Practically nothing (weights 9.8 grams).
• Front and Side swing arc animation for instant playback of your swing
• Measures and displays swing information including Club Head Speed, Face Angle, Tempo, Swing Path, Impact Force, and Consistency
• You can compare your swing with earlier ones or compare it to the pre-installed swings of some of their pros.
• Enables sharing of your swing on Facebook, Twitter or via Email ( I don't have Facebook or Twitter but email worked)
• App available for download from the App store or Google Play Store
• Cheap
Before getting into the review, I thought I would break this down into an easy to read section. I will now attempt to give you some pros and quirks of this device (remember, no relationship is 100% smooth). This is golf and its serious stuff. God knows how many hours we pour into tweaking our swing when all we need is for someone to show us how and what to tweak. This device does just that and it does it pretty well. No more running out to buy books on how not to sway, how to keep that foot planted. Maybe, all you needed was to understand that your swing was outside to in.
Pros:
• It's not a trackman. Don't expect to get trackman like quality for PhP 11,990.00 but it comes pretty darn close.
• It is well worth the PhP 11,990.00
• It is very portable, I kept expecting it to fall off the club but it was immovable.
• You can hit foam balls, or Birdie Balls, practise balls at home so that you can see your ball flight and then compare your analyzed swing data. No footballs please and don't ask me why!! Just no.
Cons:
• Do you know how to pair a Bluetooth device? Yes, then move on please. No? Then please go to their website to look for instructions. Note# Start the App after you put the device in discover mode.
• It does not tell you how much open or how much closed your impact was. It simply says "open" or "closed" or "square".
Things of Note:
When hitting real balls, check the device to make sure the alignment has not changed and that the device is still firmly aligned to the butt-end of your club. Your hands may touch the device and it may come loose.
Still with me? Good. Let's proceed to the meat:
I used this device on the driving range and then used it on the course and then again back to the driving range. I finished off a couple of buckets at the range and then went to the course. An easy 9 hole rampage. It's so easy to use and setup that I barely noticed any delay in my round. If I hit a bad shot, I immediately went back for feedback and then corrected for my next shot. No, I did not shoot under par but that's not due to the device. It's my damn clubs, always the clubs. Well, I did swing outside to in but that's not my fault. It was the wind, I swear.
It's so cheap and the amount of information you get from it is mind boggling. You probably have a few drivers and clubs that you don't even use, well, this is cheaper than one of the latest drivers you bought and don't use anymore. Plus, this will last you longer and serve you better than that driver. That will teach you to spend money on stuff you don't need!! As with any other device of this kind, you need to know what do to with the results. Swinging outside to in? Swing more around your body, feel your arms closer to your body and working in sync. Ball not travelling far, maybe there was no optimal contact.
It showed me carrying my 7-iron around 155-160. That is about right and I think it's pretty much accurate on that front. You can even store a number of swings per club, which allows you to see the progress you make. Not sure how much memory this uses but I did not notice any complaints from the iPad I used.
It also enable hands free recording for multiple swings. You can even trim your video down to only analyse the swing footage. There is even a cool line drawing tool (The kind they use on NBC when breaking down a Pro's swing). You know if you maintain that triangle with your arms and whether your spine angle changed during the swing. Quite cool. My baby thought it was funny to see daddy drawing squiggly lines on the phone like he does. It took me a while to convince him that I did not want to share his milk bottle and that I was not a kindred soul.
This baby is packed with a gyroscope and accelerometer that can collect an amazing 10,000 points of data during your swing, which is a frankly amazing. They can display things like Club Head Speed, Tempo, Swing Path, Face angle, Impact Force (Very Star Wars!!), Attainable Shot Distance, Attainable Ball Speed, Down Swing Time, Back swing Time.
My primary motive was to measure tempo and swing speed. It reported 80mph for my 6 iron and around 103mph for my driver. I think it was about right on both counts. It displays a graphical representation of swing path and will replay it in real time or slow motion. You can see it from the front or side view.
Are you one of those who have a problem with swaying during your swing? 3 Bays will break it down for you. When you compare your best and worst swings it can throw up a lot of interesting information which you would not know without it being captured. I noticed that for one of my 6 iron swings, the arc of the club was a fair bit wider than for my best swing when I looked at them from the front view. I imagine I swayed a bit during that swing. I immediately went back and tried to fix it the next few swings.
All in all, I was impressed with this product. It does what high-end competing products do at a fraction of the price. Is it perfect, probably not but it is something that I want Santa to get me for Christmas. It's interesting, says the right stuff, does not get in the way, cheap, does not take long to charge and holds a charge pretty well, looks pretty neat and presentable.
Like that quirky girl I met at the party. She was quite nice. 🙂
It's currently being sold in Bravo Golf stores in Glorietta and Alabang Town Center. It will also be on the shelves of Empire soon. For more information or to order call +632 6367494 or email Mr. Juan Antonio P Moran at [email protected].
These other articles From Harry Syles might be helpful to you