Solace. Clean Air. Temperatures below 25 degrees. Space. Nature.
Everyday, literally 1000s of people are immersed in the chaos and madness of Manila city living. We tolerate sitting in hours of traffic and living in areas where pollution so thick that we don't even notice it anymore. Don't forget to mention the heat that requires you to shower twice a day or change your shirt multiple times a day while carrying an emergency stick of deodorant with you at all times. It's funny how so many of us get lost in the busyness of life.
It is because of all those reasons above, that 100s of people seek to take a break in the cool clean air of Tagaytay. The area is so beautiful and precious that some even go up for just a day trip as it's only situated about 1.5 hours south of Manila. It's the perfect refuge away from this urban jungle that most of us call home.
What many of us don't realize is that there are beautiful and comfortable, locations to stay in that are affordable in Tagaytay allowing each of us to really take a break. You need a night away. One day sitting in the car back and forth won't really help us, will it?
We have found the perfect little hideaway called One Tagaytay Place Hotel Suites. Comfort, service and excellent food can be found here. The hotel offers clean accommodations with a variety of different rooms types to fit your desired needs. Whether you are traveling with on your own, with a loved one, with your kids or friends, this is the spot to be.
Each room offers soft, yet supportive mattresses and pillows to welcome their guests. If you need a special request, you can easily call down to the front desk for fast service. The rooms are complete with free wi-fi access, LCD TVs, cable TV and a minibar. Within the facilities of the hotel, there is a restaurant boasting unique fusions of International and Local Cuisines created by Chef Luigi Mulach at their Amacena Restaurant. Also, you can relax by the pool overlooking amazing views. Tranquility at it's best.
One Tagaytay Place Hotel Suites offers 3 room styles
Option 1 – The popular Deluxe Twin Room – which includes 2 single beds in a large 26 square meter room.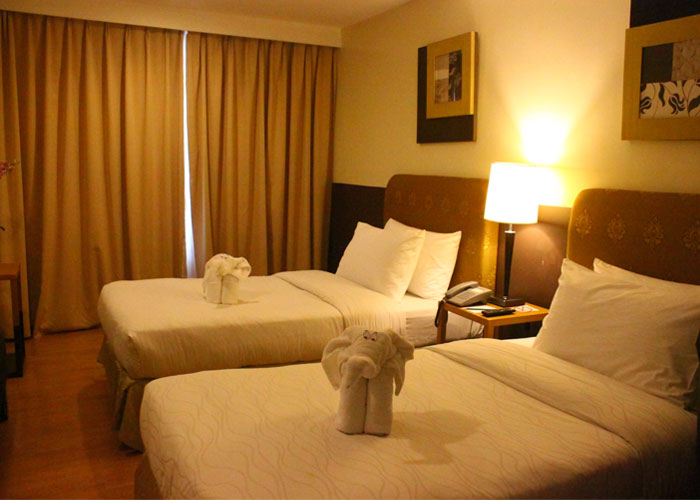 The Deluxe Twin Room, the room has two single beds in a 26 square meter room.
Option 2 – The Deluxe Double Room – which includes one queen sized bed and a sofa in a 26 square meter room.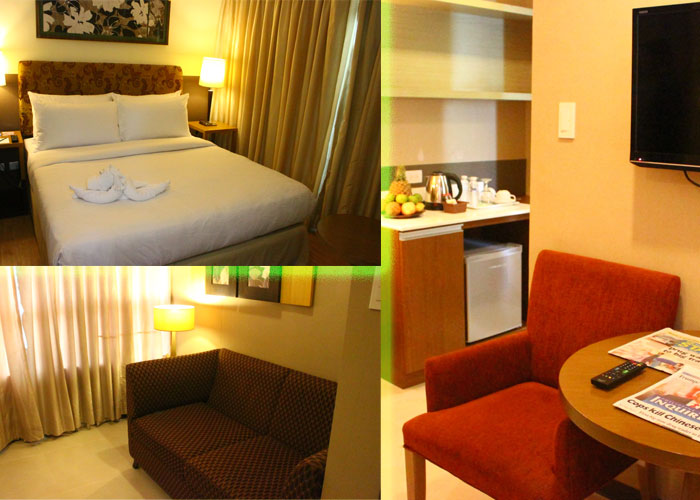 Option 3 – The One Bedroom Suite – which includes one queen size bed, lounge area, sofa, mini dining area and 31 square meters of space with an option to bring in an extra bed. Maximum 3 adults.
In addition to the 3 general hotel room offerings, they also offer Penthouse Suites, which is something hard to find at a hotel anywhere in this area. If you do find something, it will either be very expensive or more like a bed & breakfast style instead of a hotel. These penthouse suites are perfect for families or golfers on a budget that don't want to share a bed with their friend or have to endure snoring in the same room all night. The suites are multi-bedroom options that can accommodate groups of four to six.
Suite Option 1: The Avant. This penthouse boasts 3 bedrooms with a service quarter, panoramic balcony, dining area, mini bar, and common lounge area. It is huge at 134 square meters and it can fit a maximum of 6 adults.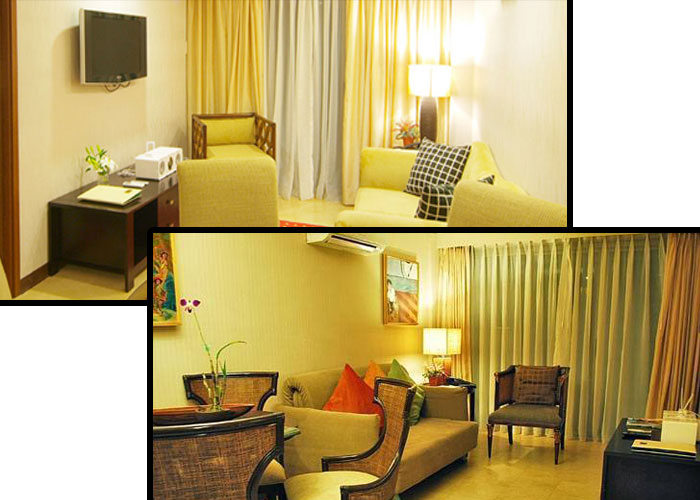 Suite Options 2 and 3: Adore and Ascend. These penthouses are both 51 square meter, one bedroom suites that hold 4 adults each.
Suite Option 4: The Aura is a 73 square meter one bedroom suite that also fits 4 adults with a lot more space than options 2 and 3.
The last Suite Option 5: The Allure. It's a 2 bedroom, 76 square meter room and it can hold 4 adults.
Now let's talk about what services One Tagaytay Place Hotel Suites has to offer you besides the pool and fancy food that was mentioned above. This hotel wants to make sure you receive the rest and relaxation that you deserve. Stress free vacations are important because that's what sets apart a trip and a vacation.
On top of the list is their in house restaurant, the Amacena. Delight yourselves on unique fusions of international and local cuisines in Amacena brought to you by Chef Luigi Mulach.
At this hotel you can make use of any of the following:
Complimentary Breakfast
In Room Massage Service
Spa & Sauna
Airport Transfers
Hotel Concierge to make Restaurant recommendations or Tour bookings
Valet Parking
Fitness Center
Infinity Swimming Pool
Kiddie Pool
Sports Bar
Landscape Garden
View Deck
24 hour security
Function Rooms
and housekeeping services.
As we mentioned above, there are function rooms that you can host an event, party, wedding, company function or anything else you desire to host. The Aurora ballroom is perfect for any occasion.
The location is great because it's situated right off the main road and close to Tagaytay Highlands, Midlands and Splendido Taal Golf Courses. You can safely get to nearby restaurants by either using their available car service or bringing your own. There's plenty of safe parking spots available for you at the hotel if you choose to drive. Also, you can enjoy a pleasant walk to the Tagaytay Picnic Grove or hope in the car for a very short drive to the People's Park in the Sky and Sky Ranch.
One Tagaytay Place Hotel Suites is that rare gem you have been looking for. Now you can look no further. Contact us today at [email protected] or [email protected] to book your next overnight stay to Tagaytay.