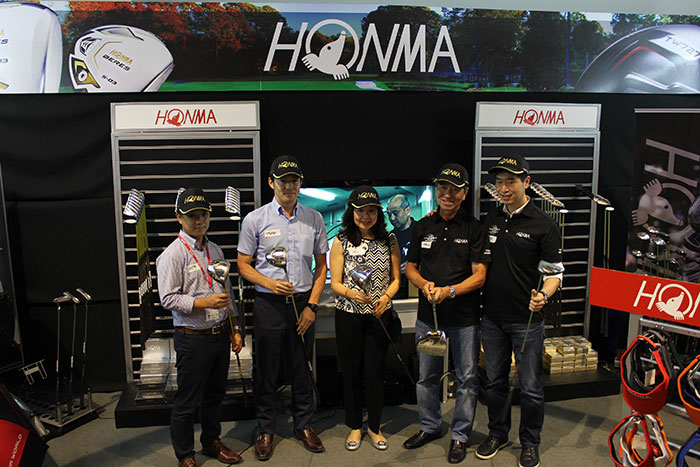 October 24, 2015 marks the entrance of one of the finest premier Japanese golf brands to re-enter the Philippines market. This year, Asiatraders Corporation announced its partnership with Honma Golf Co., Ltd., as the new local authorized distributor of the prestigious Japanese golf brand, Honma. With this new partnership, Honma is hoping to give the brand a boost in the Philippine market and increase it's distribution network.
Since 1959, Honma Golf Co., Ltd. has been the leading Japanese Golf Manufacturer and currently boasts its product line in over 45 countries worldwide. For over half a century, Honma has established its brand on the idea that golf is a game for the finest. In response to this idea it has created a line of true "art", created by the highly skilled craftsmen residing from a the small town of Sakata, which is in the northern part of Japan. Not many have ever graced the opportunity to visit Sakata, nor do they even know that this is home to Honma.
For 56 years, the brand has focused on innovation, product development, and passion in its pursuit to create "the perfect club." This idea is one that cannot be compromised and requires a true dedication to creating clubs that integrate art with innovation therefore allowing every player to experience enhanced distance, direction and precision unmatched by any other club.
The founders of this brand started with a passion and a dream revolving around their love of golf. Asiatraders' has announced its shared dream at this year's GDAP 2015 Golf Expo held at the SMX Center Mall of Asia. We received a personal invitation from the Marketing Manager of Asiatraders Corp, Hector Aquino, who leads the company's marketing division for all of its brands like Dunlop, Slazenger, Ogio and Carlton as well as others. The launch event introduced the visiting marketing team from Honma Japan as well as an introduction of the new relationship.
The booth was surrounded by media, like us, who joined in the excitement of the prestigious brand now available in the Philippines.
A prayer, an introduction, and a vision were all shared that day with other marketing, industry related professionals and guests.
(pictured above from left to right: Hector Aquino – Marketing Manager of Asiatraders Corp, Manuel Tan – President of Asiatraders Corp, Masashi Sannomiya – International Sales Mgr of Honma Golf Co., John Christopher Tan – VP of Asiatraders Corp.)
After the announcement, Asiatraders' provided free food and drinks for its guests and generously made its rounds to make sure each of us were welcomed at the event. The vision of Asiatraders' is "to provide quality products to support the needs of young individuals, while continuously promoting a healthy lifestyle, camaraderie, and love for sports by actively participating in various list of tournaments, and fun game activities across the country."
You can find the latest Honma products at: Empire Sports Erechem in Legaspi Village, Makati, and Bravo Golf Store in Glorietta 2. Soon will be available on the following establishments: Empire Sports SM Aura, and Empire Sports City Golf Driving Range.