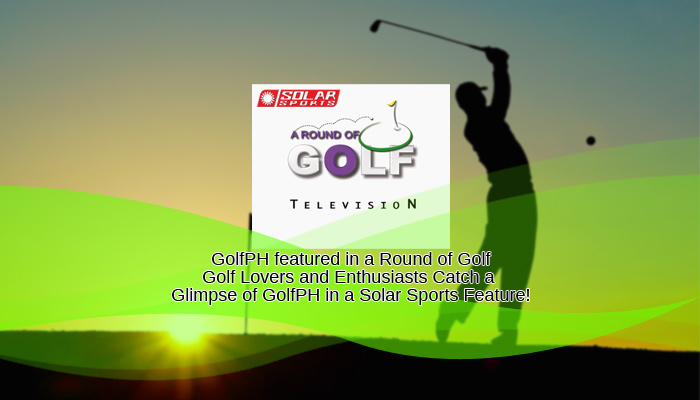 Talk about a perfect combination of two golfing resources here in the Philippines! In the realm of golfing as sport, you can have a definite resource for your gaming needs when you tune in the idiot box every Thursdays on Solar Sports channel by watching A Round of Golf. It's a half an hour television program that is geared towards the comprehensive gaming world of golf and the various lifestyles and activities that come with it, you will also find various individuals that serves as inspiration like professional and amateur golfers working together to give out helpful golfing information, news, and  playing tips.
So why'd I up the ante for a Round of Golf? It's a no brainer, because they've featured GolfPH in their special last December 16, 2010 at 8pm in one of their segments! It's quite an honor that GolfPH is made known to other golf lovers and enthusiasts out there not only because of being an excellent source of golf information and updates here in the Philippines but also of the featured GolfPH VIP card that helps in slashing the price off of important fees and exclusivity in playing in various golf courses and country clubs throughout the country, discounts on pro shops, and even restaurants. It's really something to look forward to when you see GolfPH featured in a Round of Golf.
If you have missed the opportunity to watch the feature, you can just get online and visit the GolfPH website and facebook page for the video; you'll discover how GolfPH is a comprehensive resource in the Philippines and how an exclusive VIP card can help out in finding the best golfing location to book a tee time and save on fees, and you'll also get to know a good channel to discover more about golf thanks to a Round of Golf.