A golf tournament is nothing new to the experienced player. You arrive dressed in your golfer's best, register, chat with a few close friends and meet new ones before you're hied off to the green where the game begins.
Committee members of the Anvil Business Club who were tasked with planning the organization's second annual golf competition wanted to kick it up a notch and make theirs an event to remember.  So for this year's competition, they themed it to the Chinese New Year.
The Prestigious ANVIL Business Club
Formerly known as the Association of Young Filipino Chinese Entrepreneurs (AYFCE), the ANVIL Business club is an organization comprised of thriving business professionals and successful young entrepreneurs that are committed to promoting positive values, excellence and increasing the economic and social progress in the country.
Founded in 1991, the co-ed organization has grown to over 300+ Members and holds regular business events, forums and extracurricular activities such as their annual golf tournament.
For inquiries on membership please call: +63 (2) 726-7029 or email: [email protected].
Getting Ready Before The Tournament
Set at the South Forbes Golf and Country Club last February 5, 2016, registration started at 6AM sharp.
Fresh-brewed locally-grown coffee care of Cafe-Te-Ria and snacks from Ayala Land kept everyone alert as participants continued pouring in. To keep everyone occupied and entertained during registration, the committee prepared a  'Guess How Many Tees' game.
There was plenty of time to network before the pre-assigned flights ducked into their carts one by one and rode off to the first hole!
It Started Off With a Bang!
Literally, a gun shot was used to announce the start of the tournament as everyone awaited.
For those that haven't been to South Forbes yet, it's a pretty challenging and unique golf course unlike any other here in the Philippines. The golf course is relatively shorter and narrower than most, but makes up for it with it's elevated greens, deep ravines and hazards all around.
Every hole is different when you play South Forbes and you can't always be too aggressive off the tees. That is why it's very critical that you have a good game plan in mind and sometimes taking the safe shot is the best one.
Overall, the course conditions were very well maintained and the greens were trimmed fast. It was a challenging but enjoyable game for all players. New-found friendships and pleasant play mates made it even more entertaining.
Here are a few more action shots from the tournament.
Chateaux De Paris
Meanwhile… the rest of the committee moved to the Chateaux de Paris where the program proper was to take place.
Setting up the Chateaux was an excitable affair as this was another critical part of the program that everyone worked really hard for.
The committee did an excellent job setting things up, making the table arrangements, decorations and getting the food and drinks out on time.  All of the guests and players were able to get their food and seats, just in time for the program that lay ahead.
And just like that… the first set of finished golfers walked in and were given the option of heading to the buffet of Chinese specialties, or to check out the myriad booths that filled the Chateaux.
Refreshments were in abundance with free-flowing drinks courtesy of generous sponsors Glenmorangie, Bear Beer, Cafe-Te-Ria and Izumio Water.
The guests settled themselves into the seats and our host for the event, Councilor (and fellow golfer) Daisy Reyes arrived to start the program.
After the food they had a surprise show for the guests. It wouldn't be a Chinese New Year event without some traditional entertainment and guests were regaled with a surprise lion dance – just to add a touch of festive flair to the usual program.
After the lion dance was everyone's favorite part of the the event- The Raffles!
Apart from the custom-made red Anvil golf shirts, more than 120 raffle prizes were given away that day. Prizes included golf balls, stylish travel bags, cases of Bear Beer, bottles of Glenmorangie, a bunch of products from Eureka and tons of Gift certificates from Mizuno, Dr. Kong, Custom Clubmakers and South Forbes.
The Major Prizes included overnight stays at Astoria Boracay, 2 Mizuno Golf Bags, a 32 inch HD TV, a 50 inch HD TV and a Golf Share to South Forbes Golf Club.
The trophies too were a beautifully designed plus. We had them custom made by RizGolf to suit the theme and only the lucky winners got to take home these one-of-a-kind pieces.
Check out this video to see even more of what happened this awesome day.
We'd like to thank everyone who participated in the event, especially to the members of GolfPH.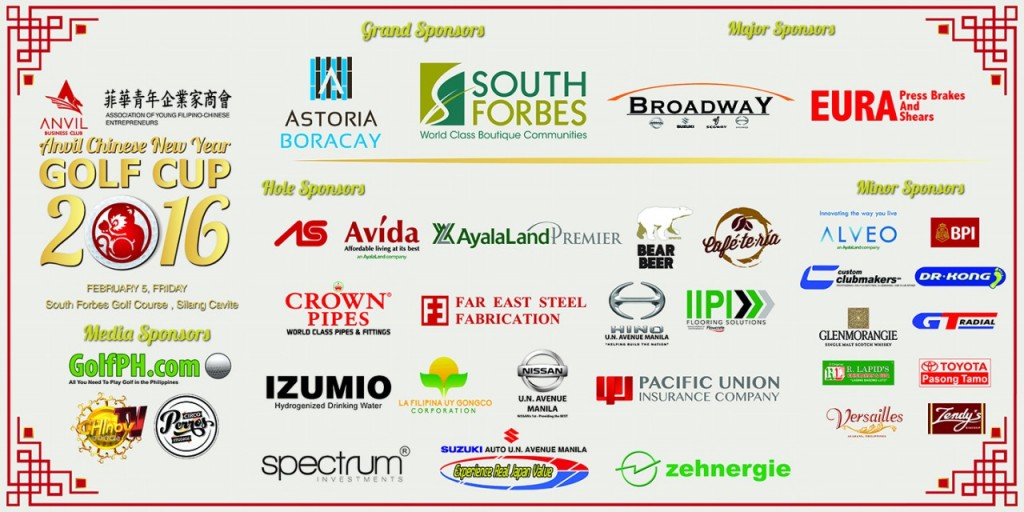 See you all for the next Anvil's Annual Golf Cup in 2017.