Have you ever wondered how good of a golfer you really are? Whether you can control your emotions after a bad shot… or make the pressure putt when it counts the most? Well
Want to Represent the Philippines in the World Finals in Malaysia? April 28, 2017 marked the beginning of a changing tide in the game of golf here in the Philippines. Throughout the year,
The First Time Ever In The Philippines Have you ever wondered what it's like to be treated like a pro in an international world class golf competition? Every year, thousands of golfers from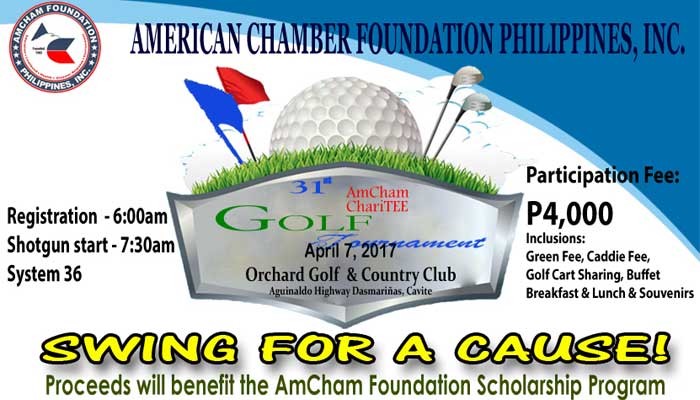 31st AmCham ChariTee Golf Tournament Get ready to swing for a cause on April 7th, 2017 at the upcoming 31st AmCham ChariTee Golf Tournament. The American Chamber of Commerce of the Philippines is an association of
Upcoming Golf Tournaments in December Upcoming Golf Tournaments in November Upcoming Golf Tournaments in October Tournaments in September Did you miss something? here are the tournaments for the past months. If you miss a tournament,
CANLUBANG — The North Course of the Canlubang Golf and County club was the setting for the ELKs 14th Annual Presidential Cup "Charity Golf Tournament" where proceeds were for the benefit of the
The days are getting longer and the temperatures are finally heating up, but although summer is just around the corner, there are still weeks (or months) of dreary afternoons in the forecast. Just
The UP Golf Team, Inc. in partnership with Forest Hills Golf and Country Club and Dream Life Church proudly present THE 2017 UP OPEN Golf Tournament. This February 17, 2017, join some of
WANTED: A Business Development Superstar Are you tired doing the same thing day in and day out? Would you rather be doing something with purpose, other than hitting your quotas? Do you want
Although we like the holidays, we also dislike the madness that comes with it. Traffic. Tons of people everywhere. The lines. Circling the mall parking lot until you are forced to find out
WHY GOLFPH?
Our golf blog provides a bunch of first hand information from a golfers point of view. We do this because of the love of the game and to promote golfing in the Philippines. We try our best to take an unbiased, nonsense approach to everything that we publish. All of our writers are unpaid volunteers so please be easy on us. If you would like to write for golfph, please feel free to email us at [email protected]