This year, the Golf Distributors Association of the Philippines will once again gather all golf aficionados, business executives and social leaders to witness and be part of another milestone in the golfing industry
as they hold the 18th Philippine International Golf Show on September 20-22, 2013.
It will be a three-day celebration of style, strength and power at the SMX Convention Center, the country's largest exhibition and convention facility located in the SM Mall of Asia Complex, Pasay City. The exhibition will showcase various golf suppliers, distributors and service providers who have made the golf industry in the Philippines more than just a fun experience in the last 17 years.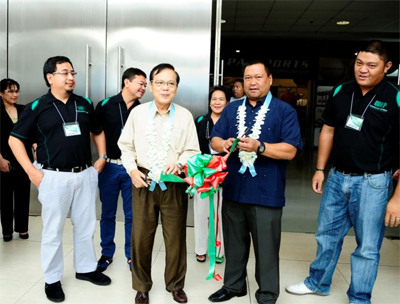 Sen. JV Ejercito and former Congressman Mat Defensor graced the opening of last year's International Golf Show
For this year's show, the Golf Distributors' Association of the Philippines, Inc. (GDAP) appoints anew Tradex Specialist as event manager. Shown signing the appointment papers are: (seated from left) Larissa Lynn Eva, Tradex Project Director; Armert Besa, GDAP President and Bon Roberto, GDAP 18 Philippine International Golf Show Chairman. Looking on are; (standing from left) Atty. Patricia Narajos, GDAP Legal Counsel; Ronand Malco,Tradex Project Officer; Raymund Atendido, VP for Turf; Randy Rana, VP for Equipment & Accessories; Bap Fugoso, Summer Golf Show Chairman; Dulce Tabernilla GDAP Secretary and Keithleen Ross Eva, Tradex Project Officer.
There would surely be a lot of things to look forward to in this year's International Golf Show, especially with the introduction of a wider range of products and services that the GDAP members and partners have to offer, particularly:
GOLF: turf care and maintenance equipment | golf cars, carts and accessories | golf
course developers | apparels and footwear | books and magazines | golf equipment |
club/resort memberships and shares
LEISURE: cars | SUVs | motorbikes | gadgets | watches & accessories | hotels | resorts
and tourist destinations | health foods and supplements | telecommunications | health and
fitness products and services | banks and credit card companies
Thanks to our members and business partners, you'll never run out of booths to visit!
The biggest names in the Philippine golf industry are expected to grace the event. Golf Professionals, Celebrities and Golf Club Owners will also be attending the exhibition. There will also be various event activities that everyone, regardless of age and skill level, will definitely enjoy.
Golf lovers excitedly line up to register for the exhibition
Mark your calendars and don't miss this once in a year opportunity to participate in GDAP's International Golf Show. Do business, meet other people, have fun and celebrate your passion for golf all at the same time. For more information, you may contact them at (02) 584.8317 or their event manager Tradex Specialist at (02) 438.1848 | (02) 995.8296. You may also send an email at [email protected] or [email protected]
The golf show is presented in cooperation with PETRON.
Official Media partners are: Solar Sports and Solar News, Philippine Daily Inquirer, Crossover 105.1 FM,
GolfPH, Golf Mix
Official Lights and Sounds System: WAV Audio Group
Official Registration Partner: BCS Computers & Technologies,
This event is also sponsored by: ROGIN-E, VIA MARE, LIPTON ICE TEA
Special Thanks to Capitol Hills Golf & Country Club!
Want to read more? Check out the links below
A List of Golf Tournaments for August 2013
A List of Golf Tournaments for July 2013
A List of Golf Tournaments for June 2013