Something Cool. An Idea.
This is the easiest part about starting a business or a product. The hardest part is to actually turn that idea into reality, but that's what Nike did.
In fact, Nike didn't JUST DO IT…they took action and perfected "it."
February 15, 2013 marked a very important night for Pacsports (the main distributor of Nike Golf) and the Philippines. Today was the official launch night for the unveiling of the NEW Nike VRS Covert Driver and the NEW Nike RZN Technology golf balls. This showcase was held at the City Golf Driving Range in Ortigas.
The theme of the night…innovation.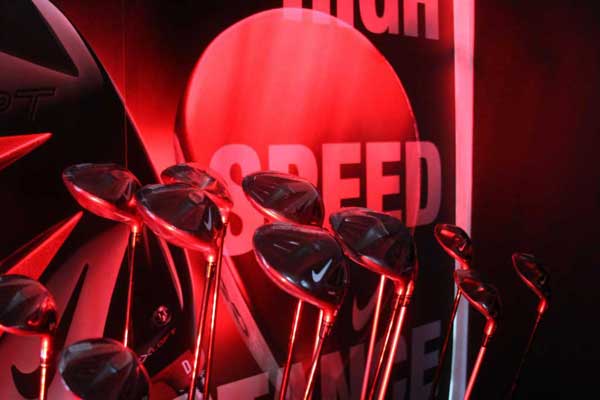 Pacsports is one of the affiliates of the GolfPH Association and we had the great privilege to be led on a direct tour by the Pacsports' marketing director, Janina. She impressed us by leading our team through an array of activities spanning over free giveaways, a demonstration of the new Nike Covert line, complimentary food and drinks.
Their golf professionals were also on hand to show us how to correctly adjust and fit this new technology to match our swing speed and style. Nike and Pacsports definitely went above and beyond tonight.
The evening's events started with a formal presentation by the Pacsports Nike Brand Manager Jaye Escuardo. He talked about the newest 2013 Nike line of products and showed why these products will be changing the way golf is played. 2 products in particular.
Product #1: New Golf Balls: 20XI and the Nike One RZN. Both use the new RZN technology, which possesses a special core that is lighter, faster, and more responsive than its competitors. The RZN technology improves 2 critical features of any golf ball: speed and accuracy. As we all know, golfers want to know how to hit farther and with precision. Check Pacsports for more information.
Product #2: New Driver: Nike VR_S Covert Driver. There are tons of new drivers released every year by over 20 different golf brands, but not all exude the product excellence and creativity that the new Nike VR_S Covert Driver possesses. Billed by Nike as the "most innovate club" they have ever produced, I got a chance to take a look at it first hand and even took few swings at the range.
The first thing that you notice is this driver is not shaped like every other driver in the market. In fact, the Nike VR_S Covert is the first driver to feature "high-speed cavity back technology" that conforms to USGA and R&A rules.
The driver also features a special patented NexCOR face, which is designed to deliver faster ball speed and longer shots from a wider area of the face.
Lastly, the driver has a FlexLoft system that will allow you to change your loft (8.5-12.5 degrees) and adjust the face angle with just a simple pull, turn and push. Overall, this club allows you to create 15 different options to suit your game and playing conditions. And we all know how having the right fit can improve one's drive.
Although I had a pretty good feel swinging the new Nike VR_S Covert, more time would be needed to test and adjust the 15 different options of the right loft, fit and angle. Maybe Pacsports will even let me borrow one for a more extensive product review in the future (hint…hint…).
After the presentation, we were introduced to the latest fleet of Nike Athletes that are using Nike Golf Products.
Above From Left To Right : Nike Golf Swoosh Staff – Eric Gozo, Cookie La'O, Mikaela Martinez, Miguel Tabuena (Nike Golf Tour Athlete, Southeast Asia), Jaye Escuadro (Brand Manager)
Not to mention these guys who are also using the Nike VRS Covert:
The night ended with a demoing of the latest drivers and clubs plus food, drinks, and raffle prizes. 2 lucky winners took home a driver (not one of our GolfPH team), and I was fortunate enough to win a Nike shoe bag!
Overall, the event was a huge success. Congratulations to Janina, the marketing head of Pacsports and Jaye, Nike Golf Brand Manager, for a job well done. I expect big things to come from Nike and for Pacsports. Please visit their website, www.pacsports.com for more information on where to get the latest Nike Golf Products.
These other articles From Errol Chua might be helpful to you